UPDATE 1PM Wind Warning Issued. Damaging winds likely.

Update 6:30PM – It's well underway.

I will keep updating this post through Monday. Please check back for updates.
The storm is definitely approaching. We are feeling the Easterly and North Easterly winds right now. These should start to turn around to the South, pick up steam, and then eventually West.
The low pressure centre is clearly visible in the satellite picture, though the actual centre can't be determined.
I'm watching the Pressure drop like a rock. It should get near 97.0 eventually, likely around 9PM tonight. We'll see.
Stay safe out there, hunker down with some hot chocolate, and enjoy the show.
Here is the super-hi resolution 1.33km model from University of Washington.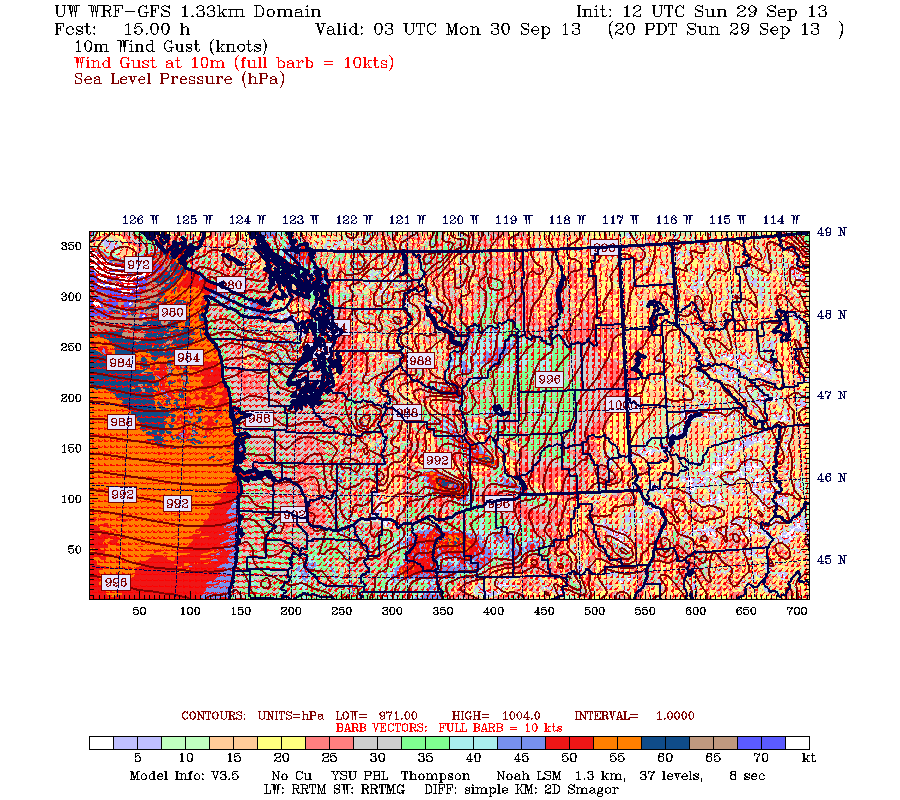 This is for 8PM. You can see the low has not hit by then, but the winds are angled up Barkley Sound and the Alberni Inlet, so this will be a time when we can expect winds might affect us.
The latest runs of the models are a little weaker for the storm, but not much. Still over 130kph gusts at times tonight on the West Coast and Barkley Sound, but also has the centre a little further north, which could allow more wind to affect us for longer.
I expect the wind to start around 7PM and could peak around 10PM but it will be very windy in other parts of the Island for longer than for us since we only really get the wind when it comes up the Inlet from the South.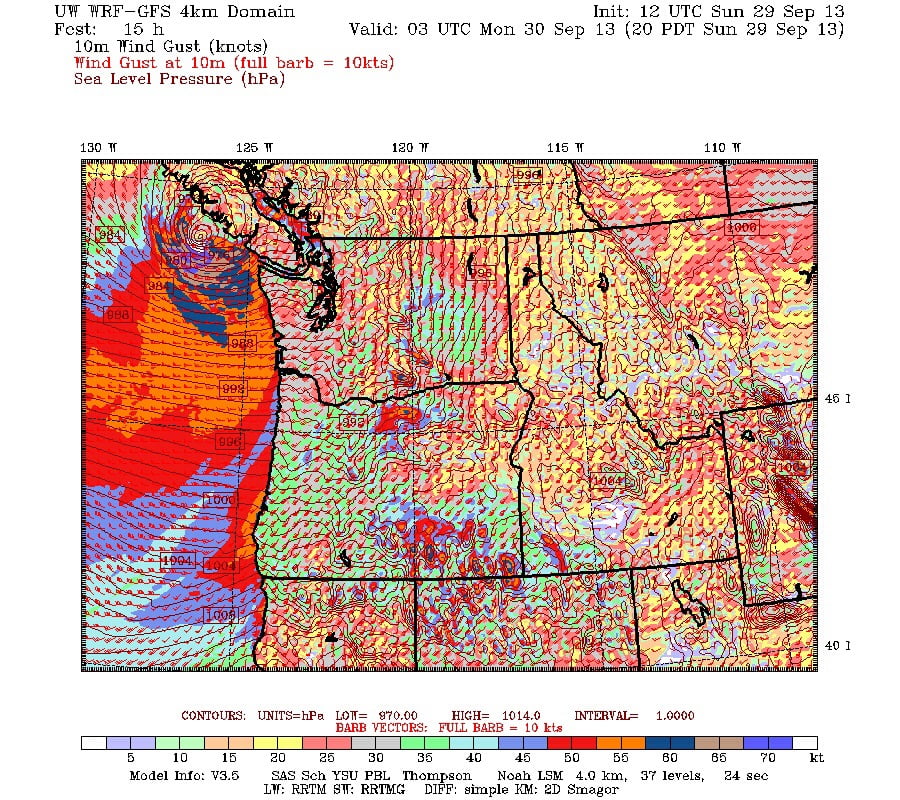 You can see the progression of how the model has changed its predictions over the past few days here.
Be safe out there. Expect power outages, etc.
Here is ECs warning
Public AlertsMarine AlertsSpecial Weather Statements
Warnings

Inland Vancouver Island
5:02 AM PDT Sunday 29 September 2013
Wind warning for
Inland Vancouver Island continued

Damaging winds are forecast for tonight when gusts could approach 100 km/h.

This is a warning that potentially damaging winds are expected or occurring in these regions. Monitor weather conditions..listen for updated statements.

A strong early season cold front crossed the South Coast yesterday afternoon accompanied by heavy rain and strong winds.

A second storm is expected to impact the South Coast tonight. The associated low pressure centre is forecast to make landfall along Central Vancouver Island in the evening. While there remains some uncertainty in the precise track, storms with this trajectory have resulted in significant wind damage in the past.

The current forecast indicates that strong southeast winds of 60 to 90 km/h ahead of the low will shift to damaging westerly winds with gusts approaching 100 km/h in its wake.

Additionally in Howe Sound further rainfall totals of 45 to 65 mm are expected by early Monday morning.
_____________
Original Post
And here are the model forecasts that give cause for major concern, white areas are gusts of over 70knots or 130kph hitting Ucluelet, Tofino and Bakley Sound. EC predicts winds up to 90kph here. 100kph for East Vancouver Island and Vancouver.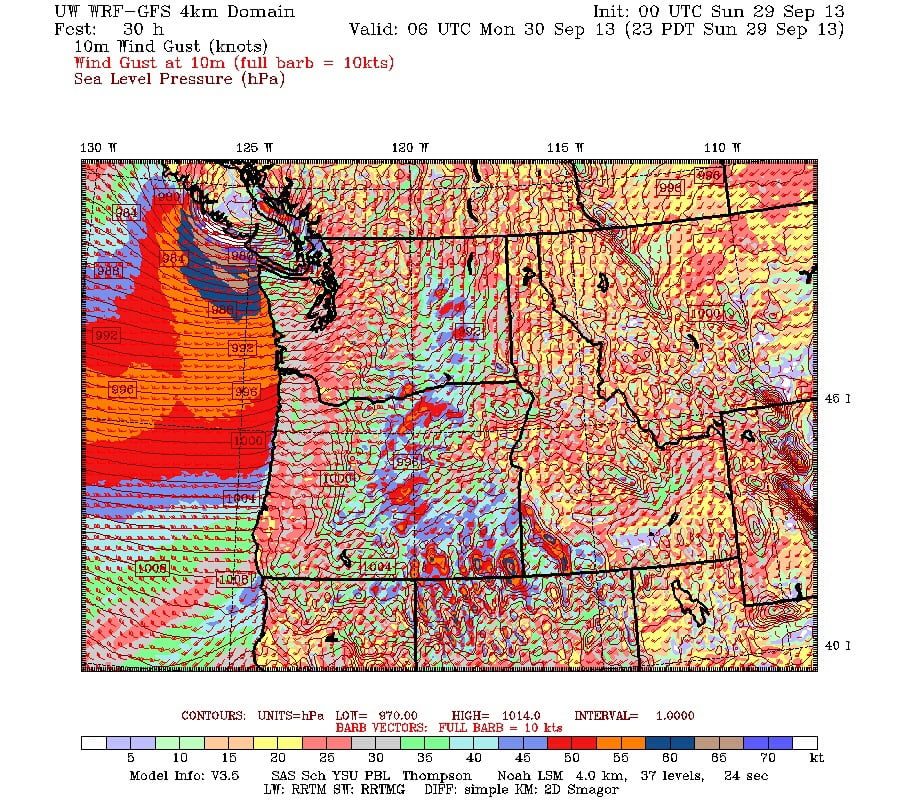 Be careful out there. Be prepared for power outages and be safe on the roads.