Something very unusual happened overnight Wednesday night. The barometer just kept going higher, and higher. It finally topped out at 1045.9 millibars (104.59 kiloPascals or 30.88inches of mercury).
The high pressure was caused by a very strong ridge of high pressure that has taken hold over BC and the North East Pacific.
I got some great comments from Mike (who initially alerted me to the event) and Monty.
Mikes first is what set me off on a hunt for more information today:
Spoke to the Estevan Point lightkeeper today, and their barograph is off the paper, rendering it useless! He has to use a different barometer to report the current pressure there. My barometric graphs are off the scale now too.
When the official record keepers run out of room on their official recording graphs, you know there is something funny going on!
His last comment:
Ours peaked at 1044.3mb in the early morning. The NE Pacific Barometric Analysis showed a 1047mb high going right over us too. I've never seen it that high ever.
I unfortunately missed that analysis or I would have saved it, but even the current analysis released at 17:00 Dec 1 UTC is impressive.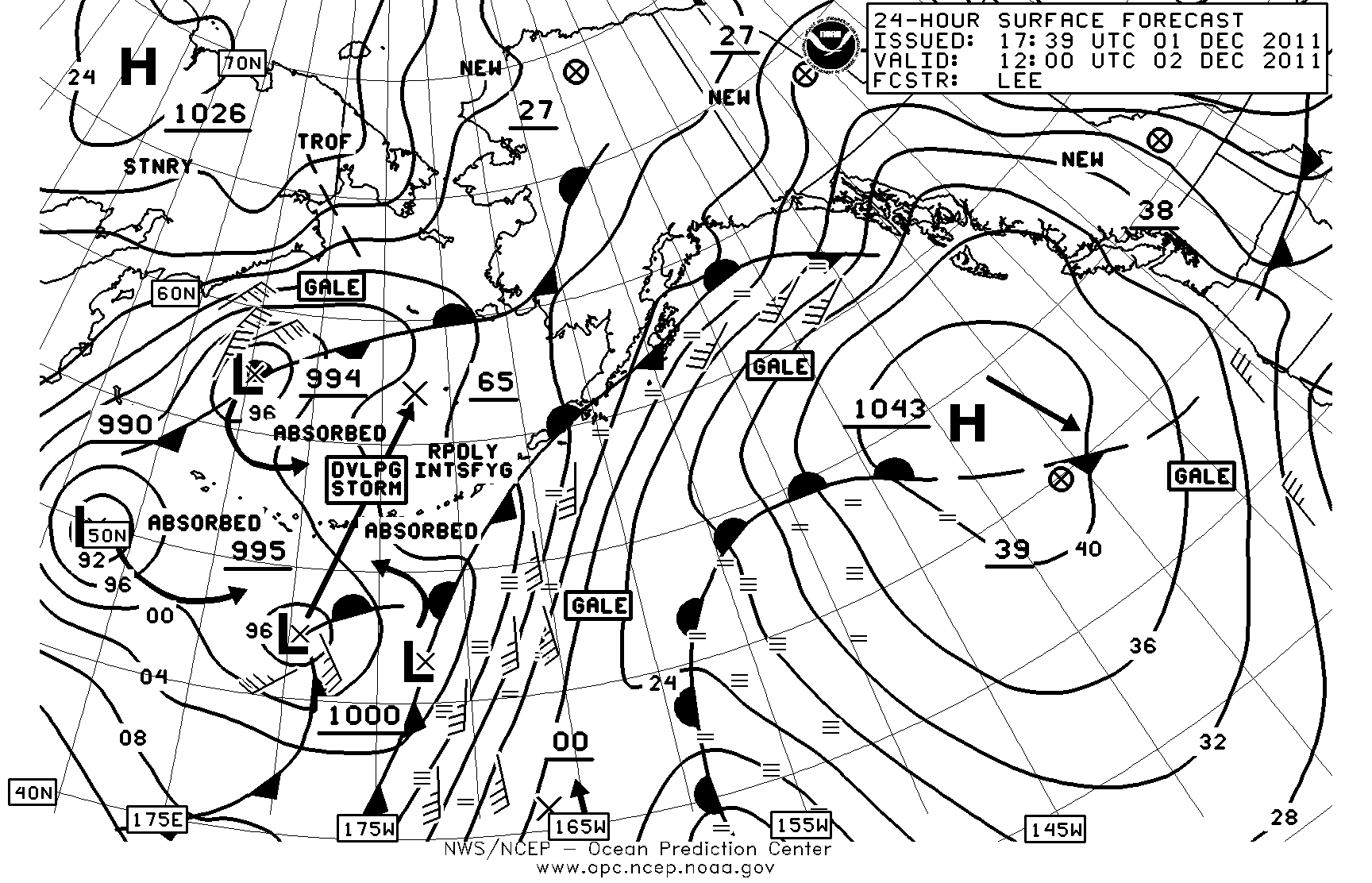 You can see the big ridge forecast to hold at 1043mb.
Even that is a full 3mb higher than the highest I've ever seen here at Alberniweather over the past 6 years. My record was back on January 12, 2009 at 1040mb. There was another high around 1040mb in November 2010 you can see it in the graph below.
The green line in this graph shows the barometer readings here at Alberniweather weather since November 1, 2011. You can see that it mostly it's in a pretty narrow range between 1000 and 1030millibars and only got as high as 1040 in November last year. So 1045mb is a big difference in barometric pressure.
The record on my station was just the start though.
I emailed Anne McCarthy at Environment Canada in Victoria.
She said:
The center of the high was analyzed above 1041 mb at 4am
this morning and I see a report of 1043.3 from Estevan a few hours
earlier.
…..
For Tofino A – looks like you set a new max sea level pressure for the month of Nov when you recorded 104kpa Nov 30th. I don't have Dec records yet.
It will be interesting to see if after further review Tofinos readings set a new all time record, because that is exactly what happened in other regions of the Pacific Northwest. Specifically, as reported at http://cliffmass.blogspot.com/ (Thanks Monty!).
SeaTac airport outside Seattle set an all time record since records began there in 1948 with a pressure of 1043.4mb.
This ridge of high pressure has contributed to our fog and it will continue to keep us pretty dry.
The same cannot be said for California, where they are having strong Santa Ana winds thanks to the big pressure gradients this high is creating. Winds up to 97mph (156kph) have been recorded in the Sierra and high deserts of California today.
Back to our region. If you take another look at the first image in this post. You'll see that the middle of the high pressure is quite far out now in the Pacific of our coast. This should allow some cold air to start making its' way here… and if you saw the CTV or CBC news or the stories emanating from Environment Canada and Accuweather's Brett Anderson you would know that the winter forecast continues to call for cold here in the West.

Big snow? No, cold generally means drier than normal. But there looks to be a threat of snow for Tuesday.
And as if there isn't even packed into the Post… If you have been following me on twitter for updates to this website, you should know that I've created a dedicated twitter feed for Alberniweather.
You can now follow the blog or send updates to me on Twitter @Alberniweather
I had been thinking about this, but Anne McCarthy spurred me into action with her email today where she informed me of a new program at Environment Canada.
We have a pilot project to collect weather tweets to #bcstorm. We'd be looking for reports of current wx of note or severe wx, with a location and possibly impact. We aren't responding, just collecting at this point. Please spread the word. You can find some details here..
http://www.ec.gc.ca/meteo-weather/default.asp?lang=En&n=F3FC6CAA-1
So if you see extreme or unusual weather, don't just let me know @Alberniweather let Environment Canada know too with #bcstorm!