More to come… but just so we're clear. This could be our biggest snow event of the Winter.
Alright, we have a large amount of precipitation coming our way Tuesday. (not so much tonight).
Here are some illustrations:
Here, this is the Canadian GEM (regional) model for Noon on Tuesday (18Z).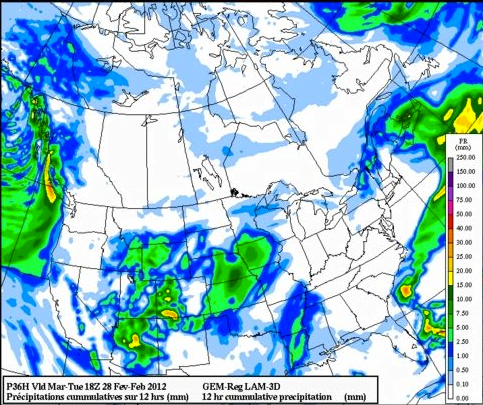 Notice the front sweeping down from the Northwest. This is a case of a low pressure center travelling down the coast, bringing precipitation and cool air along down with it and then curving into Western Washington. A pretty classic setup for snow for us.
And now for 10PM (6Z). This shows we will have received around 20mm (yellow) of precipitation between 10AM and 10PM. How much of that is rain or snow?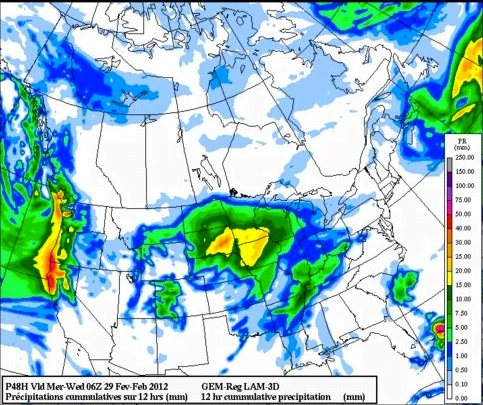 Around 4PM (0Z) looks like the meat of the storm and the point of strongest snow or rain. You can see strong areas of moisture over us on Vancouver Island (in red) and on the Lower Mainland. The big question will be the temperature.
This is from the NOAA/GFS model at that strongest point 4PM Tuesday (0Z).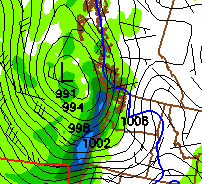 Notice the blue line? That is the freezing point. It fluctuates over the Island but never really gets pushed out of the area through this whole event. Once again, we will be on the bubble on whether the air is warm enough to support snow. All models are in agreement that it will be strongest between 4PM and Midnight on Tuesday.
And finally, thanks to Bill for the link to this image below which shows Port Alberni with a solid 70%(red) chance of 4inches (10cm) of snow between Tuesday and Wednesay Morning.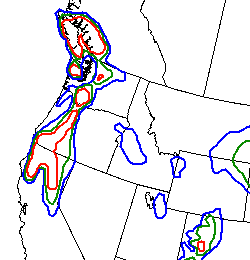 and a 40%(green)-70% chance of more than 8 inches (20cm) of snow between Tuesday and Wednesday mornings!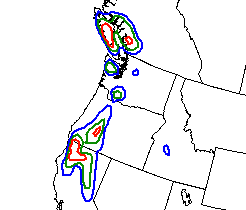 And oh ya, it's been pretty cold! We got down to -4.6C last night and -3C the night before. The Airport got down to -7C. Not record territory though. If we're that cold tomorrow morning. Which is a possibility… then hold on to your hats and get out the shovels!
I'll update again tonight.