UPDATE 12PM – As expected the 11AM update brought a Snowfall Warning for the Alberni Valley and Inland Sections of Vancouver Island. The East Coast still 'only' has a Wind Warning. I am somewhat surprised they didn't issue a Snowfall Warning for the East Coast as well but we'll see what happens.
Scattered precipitation will persist over the area through today and become widespread this evening as the system approaches.

The relatively cold air that is already in place will ensure that much of the precipitation will fall as snow especially over higher elevations. Over areas near sea level, the snow will likely be wet and may be mixed in with rain giving lower accumulations.

The precipitation is expected to switch entirely to rain early tomorrow over most regions except Howe Sound and Fraser Valley where the snow could persist to late tomorrow. Total snowfall amounts for the event are forecast in a 10 to 20 cm range.
Also, my wife just sent me this picture…. something waiting on our doorstep! HOORAY!

As Nick has already suggested in the comments. If I can't get it on the roof with a reasonable amount of time and effort this evening then I'll just bolt the thing onto the sundeck so that at least we have SOME data from the fun tonight!
____
Thanks to some unexpectedly strong snow showers overnight, the official Alberniweather ruler measured 5cm of snow at Alberniweather HQ!
That means Lynn is the winner of the 2012 Snow Contest! She guessed 3PM Monday the 17th. Congratulations Lynn! Lynn has won a coffee mug from NexCar. Hopefully it will help keep you warm through the rest of the winter.
That bit of snow last night was unexpected. However, tonight we have a potential for serious snow fall. 10-15cm. (Note this is much earlier than was forecast yesterday).
There will also be wind. There is already a wind warning up for Nanaimo and East Vancouver Island. There is a snow warning up for Metro Vancouver and the Sunshine Coast.
Further, the Warnings state:
There is a possibility that snowfall warnings will be expanded to other regions as the event draws closer.

Motorists and pedestrians should exercise extreme caution and alter travel plans accordingly where snowfall warnings have been issued. Untreated surfaces will be slippery, resulting in treacherous travelling conditions.
So be warned. I wouldn't be surprised if they end up issuing a Winter Storm Warning which can be issued if there is both a Snowfall and Wind Warning or Freezing Rain warning issued. Since the coming front will be warm, there will be a risk of Freezing rain. Expect more details on warnings at the 11AM forecast from EC.
As for details on this system: (I will update the imagery later this morning)
There might be snow showers all afternoon and evening but the real action, and wind, won't start until late tonight around Midnight.
Here is the precipitation imagery for 11PM as it is just coming onto the Island.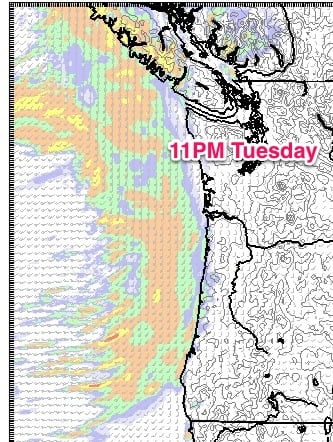 Here are the Wind Gusts: 50-55knots (Red and Orange 90kph+) likely on the West Coast. This is for 1AM Wednesday.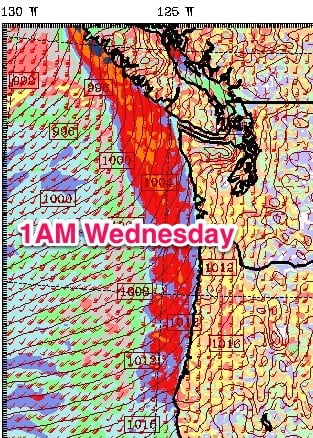 If we Zoom into the Alberni Valley we can see at 4AM that the winds have spread across the Island. We are likely to see gusts around 30knots (60-70kph). The East will be getting hammered, expect ferry cancellations.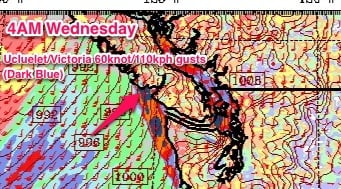 Remember though this is in combination with likely heavy snowfall if temperatures stay below freezing. It will be a warm wind, so the windier it is locally, the less chance for snow. Expect unpleasant and treacherous conditions.
So, bottom line, tonight will be interesting. It is good in a way that the worst weather will happen overnight when there are less people on the roads. However, I would plan on it still being a real mess on Wednesday morning across Vancouver Island. By afternoon it should be raining so if we do get 15cm overnight its going to be a mess of slush by Thursday. I also expect there to be power outages due to heavy snow, sleet and wind. Please be careful, be prepared and hopefully you'll be able to enjoy the weather.
My weather station is being delivered this morning!. I am not going to install it on the roof if it is though so I will probably miss this storm too. Oh well, at least it is coming home!