Sun sun sun all week – and dry.
This sunshine is going to continue all week and likely through the weekend as well.
Today should be the hottest day with highs up to 28. This would be the hottest it's been on this day since 1997 for our station out at the Airport. The historic records though are 30C at the harbor airport in 1973 and 31.7C at Beaver Creek in 1939 so unless we really break out of the forecasted high I don't anticipate we will break those records.
The models have this dry weather continuing until the 21st or 22nd. We will know in a few days whether that forecast holds. But even then, it's not slated to be a big shot of rain, just some showers and then back to a dry spell. We are into the dry season. Please be careful in the backcountry and anywhere really with fires. It will not take long for the forests to dry and the fire danger to rise.
Finally, Brett Anderson at Accuweather has released his summer forecast for 2012. Unlike last year when he predicted, successfully, a wet and cold summer, this year he's predicting both temperatures and precipitation to be normal. The rest of Canada looks pretty hot.. Especially the prairies.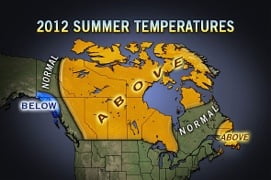 You can check it all out here.
Oh, and if you have unsuccessfully guessed a date for 30C this weekend in the contest, you still have time to change your guess before the deadline! And if you haven't guessed yet at all, get on it! Click the link at top left. 🙂