UPDATE 9:15 – The station is online. There is no wind value right now as I did not install the anemometer because it was icy on the roof. Hopefully I can do that tomorrow but I'm thinking the Weekend is more likely.
It will take a few days for the Almanacs and Graphs to fill out their datasets and figure themselves out.
On the Storm: It's snowing lightly in town and on the Hump.
Environment Canada has updated their snowfall warning at 9:12PM
The precipitation is expected to switch entirely to rain tomorrow morning over most regions except Whistler.
Tonights UWash model run still has the front hitting around midnight and the heaviest snow should be around 3AM.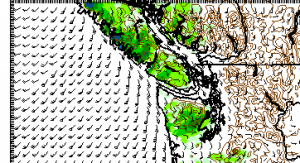 By 6AM it's looking wet but we'll see. Good night all!
— End Update —
A beautiful day today is going to give way to ugly weather tonight and tomorrow morning. The action should start around midnight tonight with some small snow showers likely to happen from around 7PM.
Here is the current satellite picture:

Still a ways off.
There is a Snowfall Warning with 10-20cm expected for tonight.
This is a warning that significant snowfall is expected or occurring in these regions. Monitor weather conditions..listen for updated statements.

A vigorous frontal system arriving tonight will bring yet another round of wintry weather to much of the South Coast. The relatively cold air that is already in place will ensure that much of the precipitation will fall as snow especially over higher elevations. Over areas near sea level, the snow will likely be wet and may be mixed in with rain giving lower accumulations. The precipitation is expected to switch entirely to rain tomorrow morning over most regions except Howe Sound and Fraser Valley where the snow could persist to late tomorrow. Total snowfall amounts for the event are forecast in a 10 to 20 cm range.

There is a possibility that snowfall warnings will be expanded to other regions as the event draws closer.

Motorists and pedestrians should exercise extreme caution and alter travel plans accordingly where snowfall warnings have been issued. Untreated surfaces will be slippery, resulting in treacherous travelling conditions.

In addition, strong southeasterly winds up to 70 km/h are forecast to develop over Victoria, Southern Gulf Islands and the exposed coastal sections of the Sunshine Coast and East Vancouver Island ahead of the system near midnight tonight. These winds will continue through Wednesday morning and then subside near noon time.

Reports of severe weather can be made via Twitter. Tweet your significant weather report and location to #bcstorm.
There is also a Snowfall Warning Metro Vancouver and a Wind warning for the East Coast and Victoria.
…. And since we are on the topic of snow….
Environment Canada released their Chances for a white Christmas today. Not surprisingly, unless you are in the Far North, your chances for a white Christmas have gone down since the 1960s thanks to Global Warming and Cimate Change except for….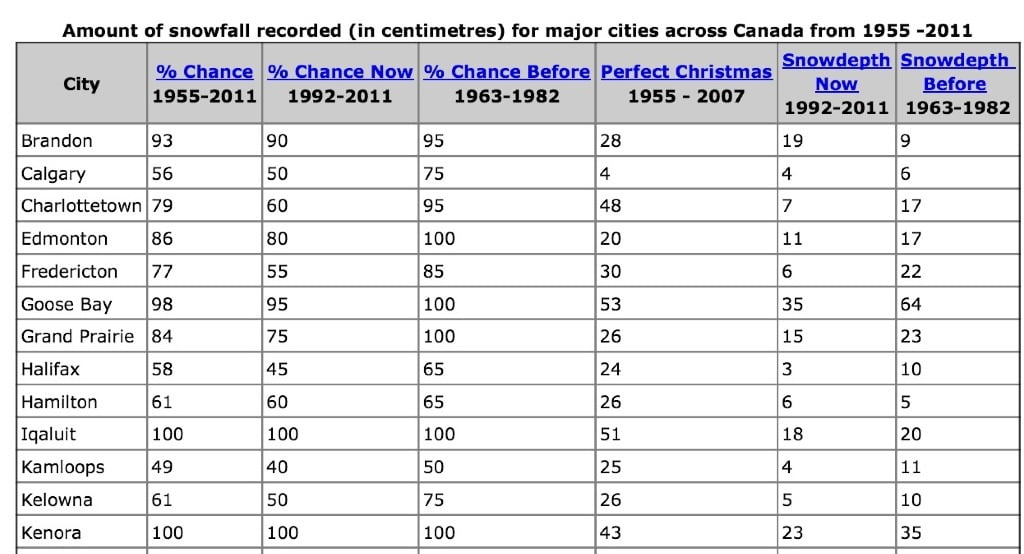 Victoria and especially Vancouver.
(And generally I think we are more similar to Vancouver than Victoria)
By the way, a 'perfect Christmas' is: 'a white Christmas morning and snow in the air on Christmas day, i.e., a measurable snowfall on Christmas (1955-2007)'
Will we get the perfect Christmas this? Well…. It's possible….:)