Here is a first. I just went to check out the wildfire situation in the province and a notice on the front page of bcwildfire.ca this evening states:
** Please note that we have received reports of generalized smoke in Port Alberni, Pemberton, the Fraser Valley, and many areas throughout the southern and central interior. Most of the province is experiencing hazy skies as a result of smoke. We do have active fires throughout the province but do not currently have any wildfires that would produce this amount of smoke. The smoke you are seeing is coming from Russia. It is being drawn across the Pacific due to the current weather pattern. If you see a plume of smoke or flames, please report it at *5555 on your cell, or 1-800-663-5555 on a landline.
So that answers that question.
There are no Wildfires of note on Vancouver Island but large sections of the central and southern parts of the Island are under Extreme fire danger ratings include the Alberni Valley.
Here is the current provincial map: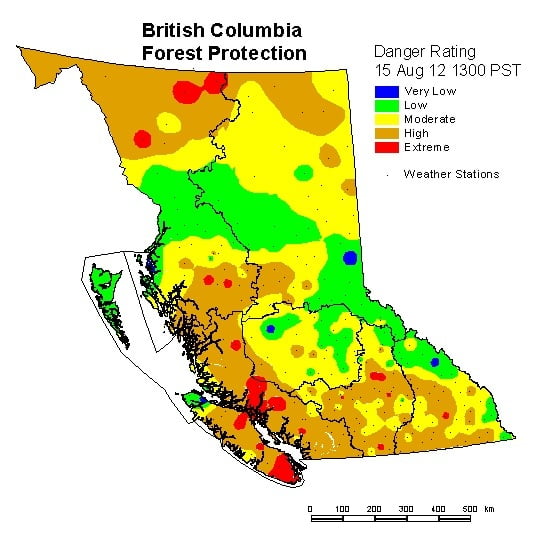 Bowser, Campbell River and Saltspring Island (ie. Most of the rest of the Southern Island are also forecast to hit Extreme by the weekend and all remaining popular areas will hit High danger ratings.
Be careful out there.