Slept through a Tsunami warning – rainy weekend -cold weather coming
I woke up this morning and my email inbox and twitter feed are absolutely stuffed full of auto-alerts about a 7.5 Earthquake that happened near the border of Alaska and BC under the ocean around 1AM.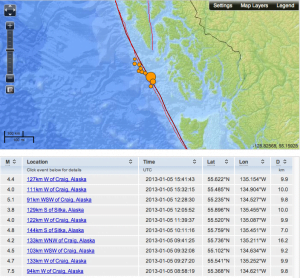 Had I been awake I would have probably remarked on the difference in response and information between this earthquake and the Haida Gwaii quake. Clearly some folks got the message.
Thankfully though the tsunami warning that was issued for the north coast was cancelled after 'deep ocean sensors did not record a tsunami' and only very small ones (0.5ft) washed into Sitka Alaska.
So there you go… Seems the only people who realized what was going on we're people who stayed up to watch the World Juniors.

As for the weather, its going to RAIN! :). Lots of snow for the mountains and starting Wednesday, it is looking much colder here.