It should be another quiet morning, possibly with a little sunshine before the clouds really start to roll in. We have what looks like a major rain maker on the way. By tomorrow midday we'll be the target of a firehose from the SouthWest…
See below: This is for Tuesday 4PM darkest areas are 30mm of rainfall in 3hrs.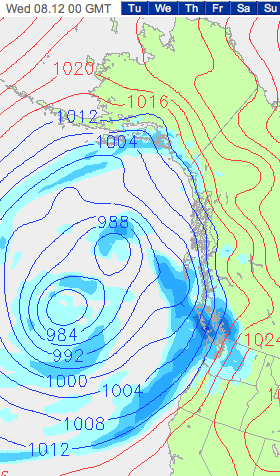 The rain will continue through the night and should let up by Wednesday morning but another pulse is expected for Wednesday during the day. A 3rd pulse will come through Thursday night It should finally let up for good on Thursday but the threat of showers will persist.
It's too soon to tell what we're going to get for the weekend. The GFS model is calling for some extreme rainfall to plow into Western Washington on Saturday and Sunday. We'll see if that track or intensity changes but at this point it looks like we'll only get the fringes.