Showers all day – Full Rain Friday – No 6ft of Snow
Updates are progressing normally.
There was a light rain shower this morning as I walked out the door and drove over the Hump.
We can expect these showers to continue through most of the day.  It should lighten up by afternoon and evening but Friday will have even more rain starting in the morning and lasting all day and into the evening.  We should get a total of around 30mm.
Dry Saturday – Wet Sunday:
The good news is one of the two weekend days should be dry.  We should escape any rain on Saturday but don't expect that Sunday as another front is supposed to move in right away Sunday morning.
At least we're not in Buffalo:
Can you imagine getting 6ft of snow in a day?  SIX FEET! Well that's what happened in Buffalo on Tuesday.  Truly epic proportions.  It amounts to an entire years worth of snow in one day.
Wondering why that might be happening?  Here it is in a nutshell.
Here is today's map of North American temperatures.
Here is a map of the temperature *anomaly*.  That is, the difference from normal.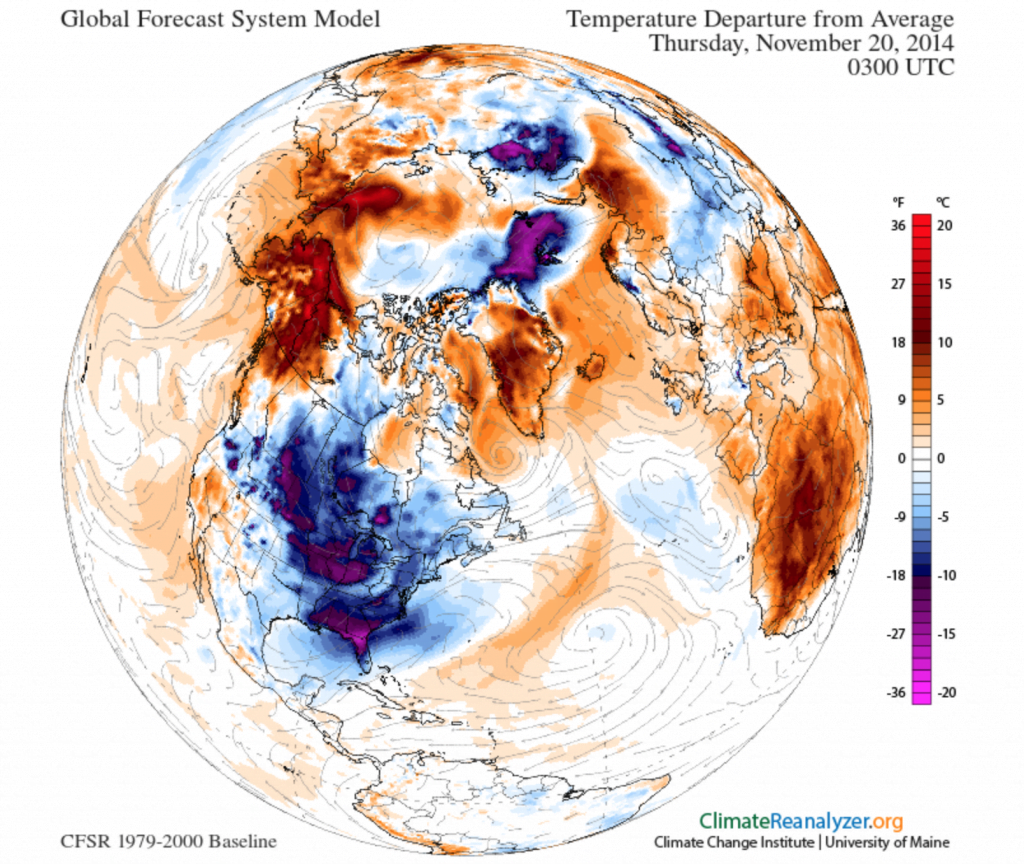 You see that little gap of light blue between the two areas of purple down in the US?  Well, if you look closely you'll see the right hand side of that gap is centred directly over Lake Erie and Lake Ontario.  There is a huge fetch of wind happening between those two masses.  It is dragging very cold air over Lake Erie, over the Niagara Falls area, and straight onto poor Buffalo.
It's literally the perfect storm for stupid amounts of snow.
Last image:
Our cold snap, and stagnant air mass, has been caused by the jet stream moving way to the north of us.  That has broken down somewhat as the flow has weakened and a strong West to East flow is coming at us soon, as you can see above.
Unfortunately the equal but opposite effect is lingering out East as the Jet dives way down into Florida, dragging cold air with it and causing the extreme snowfall we have seen in the eastern Great Lakes.
Thankfully, our rain tomorrow and on the Weekend is also a signal for our friends out East that their unusual weather is coming to an end.
The bad part?  What happens when it rains on top of 6-8ft of snow?
What's the cause of it all?  Hmmmm, well, I have my suspicions and so do many scientists.  The quote below comes from an article in Smithsonian Mag on September 3rd this year.
This past year, the U.S. Midwest and Northeast suffered through a long, cold winter. The West, in contrast, saw a warm, dry season. Yet both were symptoms of the same cause—a leaky polar vortex. This situation gets even more counterintuitive, too. A contentious idea that's been kicking around for a while posits that, as backwards as it seems, a weak polar vortex (and the resulting cold winter) might actually have been a sign of global warming. And now a new study adds evidence that this may, in fact, be the case.