Check out the storm hitting northern Alaska. You can tell how strong it is by how tight the circles are way up in the top corner of this image. Storms show their strength by how low the barometric pressure gets. By comparison our barometer here at Alberniweather is a pretty normal 102.2kPa (1022millibar), but the storm hitting Alaska is around an amazing 94.2kPa (942mb). The lowest pressure recorded here at Alberniweather was not anywhere near there 96.4kPa on January 4, 2008 which brought us 60kph winds and heavy rain.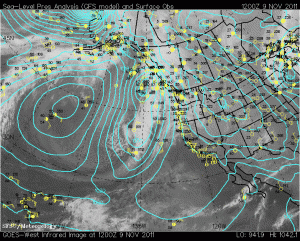 Here's the storm on Satellite this morning… you can see the big swirl over the Bering Strait and Siberia in the top left corner of the image with the bottom right portion of that swirl, which is the low-pressure center over the Bering Sea, approaching the Alaska coast. Image from the NWS.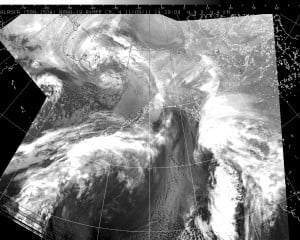 It's strong enough that CNN and CBC are both reporting on it this morning.
The U.S. National Weather Service warned western Alaska residents to brace for a "life-threatening storm of an epic magnitude," as a rare Bering Sea disturbance packing hurricane-force winds and giant waves moved into the state.
Hurricane force winds and big storm surges are in store for a region of the Arctic which isn't unfamiliar with nasty weather… but nothing like this.
The Arctic sea ice line is much further north for the Bering Sea region than average (orange line, left side) based on todays image (from the NSIDC).
Is low sea-ice playing a role in this 'epic' storm?
….
On the local front. The rain will continue on my Birthday today but it should clear up a bit tomorrow before going back to rain for the end of the week.