Rainfall Warning Issued – up to 100mm expected
It's officially official. We have a heavy rainfall warning for Tuesday.
We had our first shot through the day today.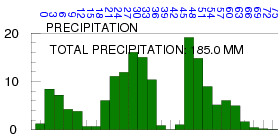 These systems have been coming a little early from when the model above has had them. So I would expect the heaviest rain to happen midday tomorrow. That will be the majority of the rain.
A break will come overnight Tuesday with the final push coming through the morning on Wednesday.
It looks like this will be the last system to bring us big rain. After this push we are setting up for another relatively dry, and foggy spell. We might get some more showers on the weekend. After that, we are hopefully going to cool down some.