There is rain and wind on the way. The East Coast of the Island is under a modest wind warning.
Says EC
An intense area of low pressure is moving toward Vancouver Island and will cross the northern tip early Wednesday. Ahead of the low southeast winds of 60 to 80 km/h will develop abruptly in the early evening hours over East Vancouver Island and the Sunshine Coast. The wind will continue strong all night into Wednesday morning. A trailing cold front will pass in the morning as the low crosses the island switching the direction to westerly. Wind speeds will remain strong westerly initially then gradually diminish.
We should get some wind in the Valley too, but nothing too serious.
The GFS is betting on around 36mm of rain and for it to start in late afternoon.
The UWash model shoes quite a big front approaching the coast in the afternoon and spreading rain over us around 4PM. It also shows double the rain over the next 48hr as the GFS, 65mm. We shall see who is right. I will lean towards the lower expectation.
Here is the front as it approaches us: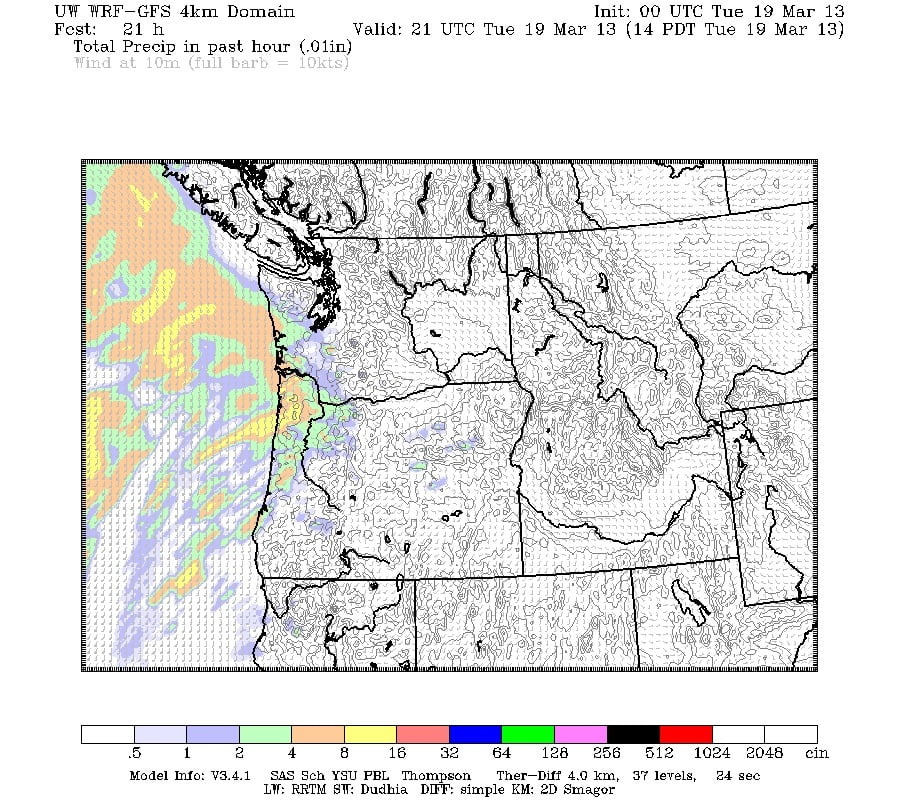 It will rain all night, with the peak sometime after midnight and the last shot around 7AM. The rest of Wedsnesday will be windy but drying out and we shouldn't see much more rain for the rest of the week.