We could have a small accumulation of snow tonight if the fogs sticks around and the temperature stays about where it is now. I wouldn't expect any serious accumulation in town, but on Sutton Pass and other high areas there should be a significant amount that will fall before turning to mostly rain.
That said the forecast models, GFS, CMC and Euro really has us on the brink of snow with temperatures only barely above freezing all weekend… but I think we'll probably still break out above the snow line and get a bunch of rain this weekend.
Next week it starts to get more interesting. We will have some persistently cold air, no major Arctic air, but definitely below freezing, and it is not slated to really warm up next weekend when a low splits off from Alaska and slides down the coast… it is those lows that seem to draw air in from the Interior and give lake effect snow to Parksville and Nanaimo, and sometimes us (but generally not nearly as much). Here is the GFS model…
This is precipitation for next Sunday (the 20th) night… notice the low right off of the West Coast that is tracking in a southerly direction.

And here is temperature for the same period… very obviously, cold enough for snow.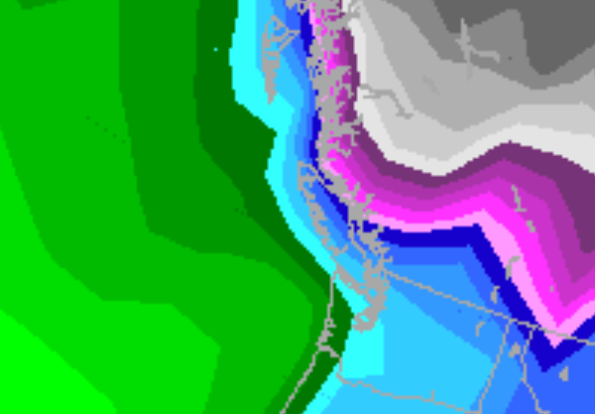 So keep your eyes open for that late next week.
We will be getting lots of rain between now and Tuesday.