For the second time in 3 days we woke up to more white stuff on the roads and grass than we saw most of winter. Good times!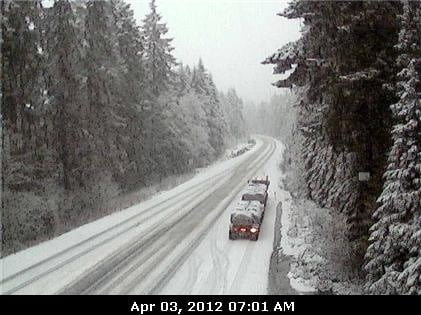 If you are driving on Highway 4 East or West be careful, there was significant heavy and slushy snow on my drive over the Hump until Cathedral Grove.
I use the WAZE app on my iPad to report conditions as I drive (it's a navigation system too) and it posts those reports @Alberniweather on Twitter. If you have an iPhone, iPad or Android device in your car, I highly recommend using WAZE. And the more people that use it, the more reports there are and the better the information.
As for the weather, after this rain moves through this morning it will start to clear up. We don't have another major system to deal with in the foreseeable (10day+) future and in fact Sunday and Monday look like the start of a very nice warm spell with temperatures above 10C through next week.
Why does that seem so far off right now? 🙂