More Rain this week – Arctic Tipping Point
We had quite a nice weekend that has even stretched into Monday morning. (And oh what an early monday morning it was with the time change)
On and Off
This week is going to be a pretty wet one. There are already rainfall warnings up for the West Coast and for Greater Vancouver. I don't expect any warnings to fly for our region but it will certainly be wet starting tonight.
The front should reach us by around 4PM this afternoon. The rain should start in earnest within an hour or two after that. The moment of heaviest rain in the models is pictured below at Midnight: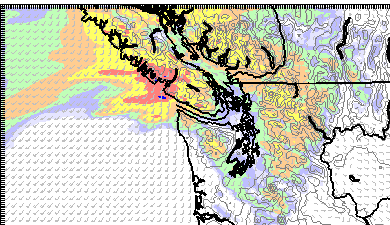 The rain will last through the night and should clear up around sunrise at 8AM. Tuesday should be much drier but still unsettled. There will be another smaller pulse of rain coming Tuesday evening.
Wednesday will repeat as drier but unsettled until Wednesday night and Thursday when we will get another bunch of rain.
Barring some totally unexpected cold snap… I think we can put any threat of snow to bed. Spring is here.
Spring coming to the Arctic
It's spring in the Arctic too. The ice is at or very near it's winter maximum in extent and thickness. The sun is rising over the horizon up there but I'm sorry to report it's not revealing anything good.
After last Septembers record melt many hoped that there would be a rebound this year as some of that first and second year ice perhaps consolidated and joined the last remaining multiyear pack ice.
That hasn't happened.
Here is a comparison of the past 26 years, from 1987, 1997, 2007 and 2012. (Captured from a longer version at the NOAA)
Here is that final frame from December 2012: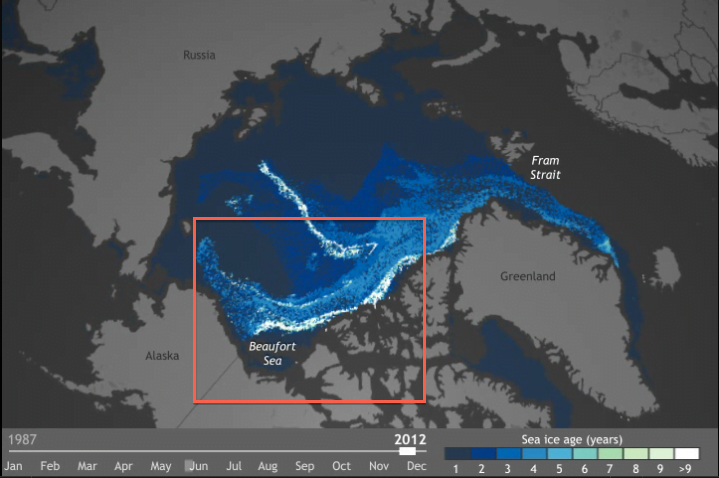 The difference in just 25 years is stunning. The red box is the area of the image below… a closeup of the cracks.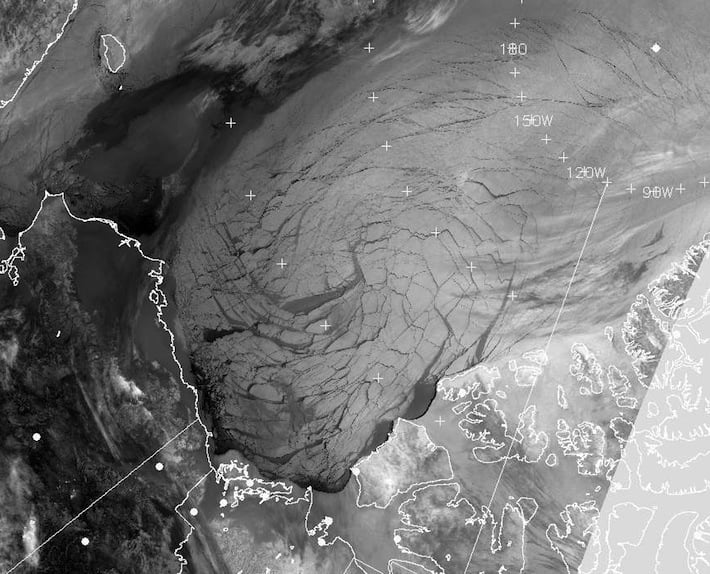 It is very clear from this imagery that the small area of thick ice is itself very fragile. Check out the cracking in the ice…
It's not hard for anyone to see now where the Arctic is headed. When the last of the multi-year ice is gone then, by definition, the Arctic will only have 1-3 year ice and will likely have periods of total ice free conditions in September. Expect that within the next year or 2.
Here is something someone else wrote on the Arctic Sea Ice blog recently:
"The arctic ice disappearing is the first absolutely undeniable large-scale effect of global warming. There is simply no way to spin this one. If the arctic melts, [human caused] global warming is happening. Period.

I don't know if humanity will effectively respond to global warming. But the melting of the arctic officially moves the debate out of the theoretical and into the actual."