May 2013 recap: Warm and Wet – Warm and dry summer predicted
It was a warmer and wetter than normal May. The average temperature in May was 13.2C and we received 85mm of rain. This is 2.0C above normal for temperature and 10mm above normal for rainfall compared to the 1970-2000 normal daily averages for May at Environment Canada .
I am going to omit my station and some values from the EC station this month because of the work I did relocating my station and a few days of missing data from EC which I believe may skew the averages significantly. Otherwise, these will be a city wide average of the three Islandweather stations in the City and the Airport EC station where applicable. This month hopefully we can include all 5 local stations. Details are below.
Average Daily Temperature difference: +2.1C
Alberniweather:13.5C (not included due to relocation)
Environment Canada Airport: 12.9C (not included due to missing values)
Alberni Elementary:13.4C
Maquinna: 13.0C
Neptune Canada: 13.5C
Overall Average: 13.2C
Environment Canada Normal: 12.7C
Average Minimum Daily Temperature difference: +2.6C
Alberniweather: 8.9C (not inc)
EC: 6.9C
AES: 8.6C
MAQ: 8.6C
NEP: 8.8C
Overall Average: 8.2C
Environment Canada Normal: 5.6C
Average Maximum Daily Temperature difference: +0.9C
Alberniweather: 19.0C(not inc)
EC: 18.8C
AES: 18.6C
MAQ: 18.3C
NEP: 18.7C
Overall Average: 18.6C
Environment Canada Normal: 17.7C
Average Rainfall difference: +10mm
Alberniweather: 46.5mm(not inc: it missed rain days)
EC: 64.4mm (not inc: it missed rain days)
AES: 85.2mm
MAQ: 84.8C
NEP: NA (not measured)
Overall Average: 85.0mm
Environment Canada Normal: 75mm
Meteorologically Speaking… Summer is here!
(Meteorological Seasons are: June-Aug, Sept-Nov, Dec-Feb, Mar-May)
It looks like we have reached the end of the rainy season and we will now turn drier.
The Peak reported this morning that The Weather Network expects a warmer than normal and dry summer. The latest forecast out this morning from Accuweather (which uses the European global weather model, considered the best in the world for medium to long term forecasting) is that June is going to be notably drier and warmer than we have seen in the past few 'June-uary' years.
Here is next week: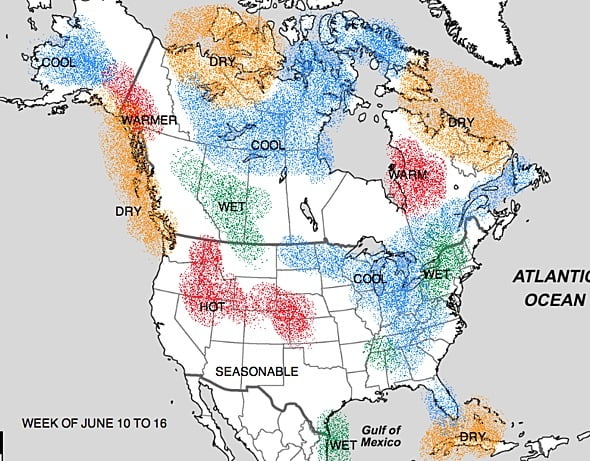 So it looks like the warmth is going to stick around for a while, but not the wet. Our normal rainfall for June is 49.4mm.
We should come to expect warmer than normal summers as the data from Environment Canada shows temperatures have risen 1.4C since 1949 and continue to do so and we match that trend. Nationally though they are getting slightly wetter, perhaps due to more storm activity in Central, Eastern and Atlantic Canada, but I think in our local climate, they are actually getting drier. That is still something I need to research but have been unable to lately due to my main computer being in the shop the last month.