Snow is still in the forecast except the amounts of dropped off quite a bit. It looks like there is somewhat less moisture in the atmosphere than they anticipated before so the most we're going to get is 5cm before it changes to rain in the afternoon.
And in fact, with the temperature only just barely below zero this morning. I only give a 30% chance that we'll actually see the snow accumulate near the water. Higher elevations will certainly get it, especially Sutton Pass and the possibly the Hump. But Port Alberni is likely to get a very messy bit of business.
The NOAA is still predicting a 70% chance of 4 inches (10cm) falling in our region between 4AM this morning and 4PM this afternoon.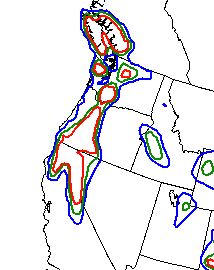 And there is still an outside shot at 8 inches: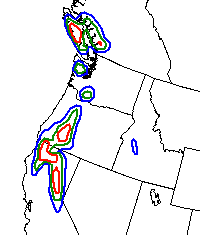 The other models have really not changed much. The same timings apply. Snow or Rain should start around 10AM this morning and be heaviest around 1PM.
One thing that is interesting is the Low is slated to cross directly over Southern Vancouver Island tomorrow afternoon. This is a change from the original forecast which had it going into Western Washington.