Update 3:21PM –
Apparently the fire in Dry Creek was human caused, but still waiting to hear a definitive answer.  In the meantime, thanks Nikki for submitting a great video of todays thunder!
Update 2:50PM –
Now reports of a fire in Dry Creek Area.  PAFD are responding.  If you have any updates or pictures please pass them along.
Update 2:00PM – Final for now.
Looks like the excitement is over.  I'll stop the frequent updates now. If anything important pops up I will update.  Keep an eye on twitter or the Facebook page too.
Still Power Outages reported by BC Hydro in central Alberni and also isolated pockets near lake.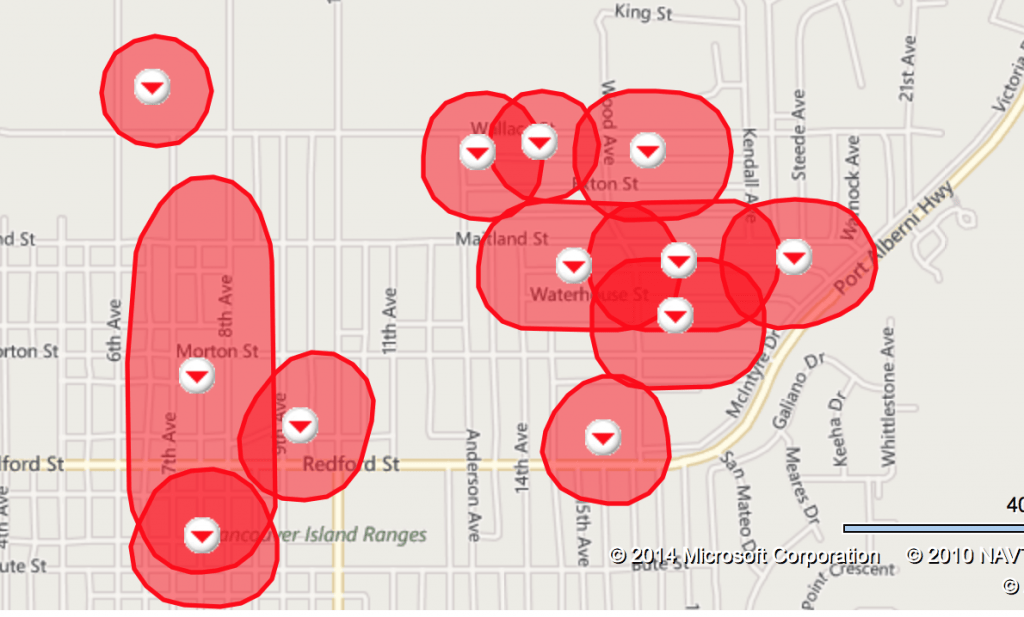 Update 1:55PM –
Susie Quinn of AV News reporting that she has been told helicopters were using lake water from petroglyph area to douse Arbutus Ridge fire, so hopefully that means no other fires are active (or at least have been spotted).
Update 1:50 – A closeup from earlier of the helicopter bucketing the fire on the ridge.  It now appears to be out.
There are reports of another possible fire in the Sproat Lake area. Anyone see anything? Towards Petroglyphs, or points west (towards Taylor Arm).
Update 1:42 – Possible fire out Sproat Lake?  Reports of a helicopter taking water near the Petroglyphs.  Anyone nearby?
Update: 1:41 – Fire appears to be out.  THANK YOU TO THE FIRE CREWS ON THE GROUND AND IN THE AIR!
There is still a chance for more lightning and thundershowers later this afternoon. Thanks all!
Update: 1:30 – The fire looks to be out.  But crews are investigating other possible fires in area including nearer China Creek.  A huge amount of lightning struck (for our area especially) in a very short amount of time.
| | |
| --- | --- |
| | alberniweather places hit by lightning #alberni heard so far: Catalyst mill, multiple in Redford/Echo area. FFgrounds. Hospital. Arbutus Ridge. Wow. 2014-08-12, 1:29 PM |
Update: 1:25 – One of the Logger Sports poles at the Alberni Valley Fall Fair Grounds was struck by lightning during the storm as well!  What a storm!
Update 1:16 – A pic of the helicopter bucketing the fire!
Update 1:05 –  Can still see smoke on the webcams as crews and helicopters continue mopping and monitoring.  Helicopter picking up buckets of water from Harbour Update: 12:59 – 
| | |
| --- | --- |
| | mikemcd79 @alberniweather @cityportalberni Arbutus Ridge has now emerged from fog … Fire still smouldering 2014-08-12, 12:56 PM |
Update: 12:53 –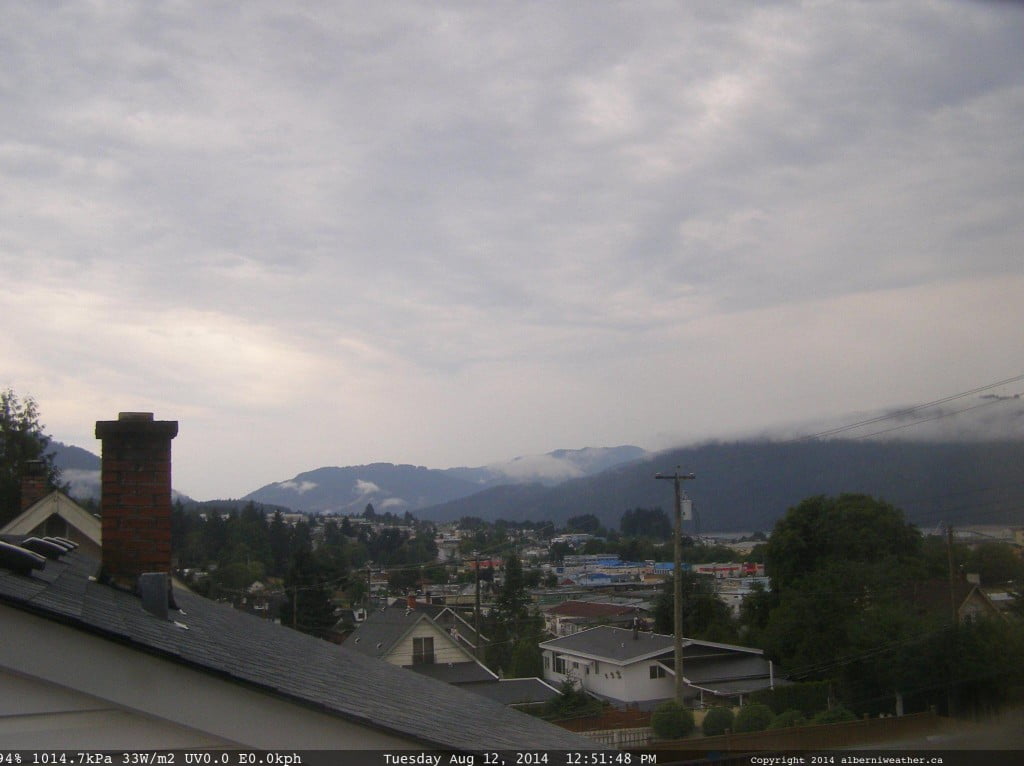 | | |
| --- | --- |
| | mikemcd79 @alberniweather @cityportalberni Fog bank has now come over Arbutus Ridge and fire crews have retreated! 2014-08-12, 12:52 PM |
Update: 12:47 –  There are reports that there is less smoke now thanks to efforts from firefighters on the ground and helicopters in the air.  Will update again when I hear more precise info. Update: 12:38 –  Fire on Arbutus Ridge is now visible from the Alberniweather Webcam (far right).  Click the webcam image on the right hand side to see it. Update 12:30 – 
| | |
| --- | --- |
| | mikemcd79 @alberniweather Large truck and a third Helo now on site above fire on Arbutus Ridge 2014-08-12, 12:28 PM |
Still multiple outages in Central Port Alberni affecting around 150 homes. (click for bc hydro website)
Update 12:27 – Facebook user reports seeing as many as 6 lightning strikes in the central port alberni area during the storm including the one that hit Arbutus Ridge causing the fire. Update 12:21 – 
| | |
| --- | --- |
| | mikemcd79 @alberniweather A second Helo is now on scene at Arbutus Ridge … Come to Maritime Discovery Centre w/binocs for perfect view of action! 2014-08-12, 12:16 PM |
Update 12:20:
| | |
| --- | --- |
| | mikemcd79 @alberniweather A Helo has now landed on an access road just below fire on Arbutus Ridge 2014-08-12, 12:10 PM |
Update 12:10: If you see smoke call 1-800-663-5555 even if you think it may have already been reported. If you have any pictures or videos you would like to share feel free to send them to alberniweather@gmail.com or @alberniweather on Twitter. Update 12:05 Reports now coming from folks at the Maritime Discovery Centre that helicopter is checking other areas further down the Inlet.  Possible other fires. from AV Times: "Lightning struck three transformers at about 11 a.m. on Ninth Avenue between Redford and Morton. BC Hydro workers on scene said the power will be out for about five hours in the surrounding neighbourhood, including Abbeyfield House and residents on Wallace Street. A forest fire has also been reported across the Alberni Inlet, near the communications tower." Update:  BC Hydro Outage A strong lightning storm just came through Port Alberni and caused power outages and a fire at the Catalyst Paper Mill as well as sparked a forest fire on Arbutus Ridge. I will update this post as I get more information.  Stay tuned. There are a number of small outages around central port alberni.
  A fire was sparked on Arbutus Ridge directly across the harbour from the city.  A helicopter is currently investigating. There are also reports of a small lightning caused fire at Catalyst mill but it appears it is either already out or may have been confused for the fire on the hill.
  Here is a video of the thunder and rain earlier today.