UPDATE 2 Be careful on the hump. It's nasty up there.. traffic looks light, but looks very slippery.
Looks like rain only on the East Coast right now.
UPDATE 1 The slush has come.
Will it stay slush… will it switch to snow… we will watch and wish… then we'll know.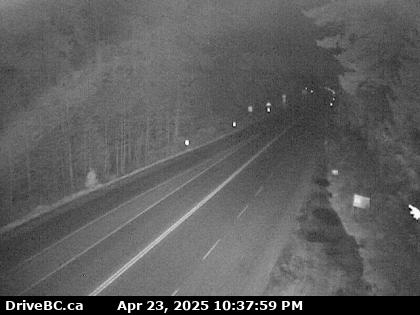 __________________
This is pretty funny. Everyone has been predicting snow here, me, you, EC, TWN, and all the computer models.
Today they're predicting 5-10… tonight, another 5-10….
And how much have we got? Nothing! Not a single flake has fallen from the sky.
Nanaimo and Victoria got a few flakes here and there, but nothing on the ground. Oddly, the only place that has got anything is Vancouver.
Here's the view in Burnaby.

So are we going to get anything at all? I don't really think so! There seems to be a fair amount of precip on the radar, but it's moving very quickly and doesn't seem to really get dense until it rams into the Lower Mainland area. The dewpoint is still around 0C and the windchill is the same, so it could still fall as snow but it just seems to all be flying right over our heads.
Of course… now that I've said that, we'll probably get a dump of 15cm of snow in a few hours.
Keep on the lookout 🙂