Inversion, fog… Then snow?
The next couple days, until the weekend, are going to look and feel like our weather back in November and early December. Foggy. Chilly. And pretty hohum.
But then.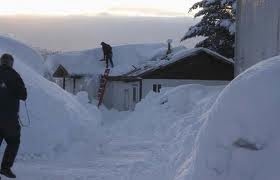 Ok. just kidding!
That picture is from Cordova, Alaska, a place very much like ours. A little more used to rain than, 10 meters of snow, in a week!!. Thats where all the snow has gone this winter apparently. They are getting walloped in Western Alaska. Interestingly, they are breaking records set in 1996, the year Victoria got buried and had to call in the Army.
All that said, we do have snow in the forecast, but don't get your hopes up yet. Its looking more like the same sort of meek centimeter or 2 rather than any serious accumulations.
We seem to have two recipes for snow on the Island:
– For East coast Nanaimo/Oceanside snow – A low dropping slowly south off the island then heading inland over Washington pulling cold air across the strait.
– For big Port Alberni snow – we need lots of deep cold air followed by a big shot of moisture off the Pacific
The longer range forecast is a little more interesting, showing the cold get a little stronger with a shot off the Pacific a day or two later, but it has not been stable or consistent so we will just have to wait until it can get within the 5 day window to be more sure.
At this point, Look for flurries starting Saturday night or Sunday and possibly a little more Monday night. After that, we will see.