Well, it can't get any more official than what has happened in the past couple hours!
THe snow started at approximately 9:10AM this morning and it has continued. We now have about 1cm (judging by the webcam) with likely a little more in places.
We could get up to 5cm today. It should turn to rain, but the temperature has flatlined since the snow starts, so unless some of the warm wind affecting the West and East coast filters into the Valley it is possible that all precipitation that falls today could fall as snow.
Please Stay and Drive Safe!
Sutton Pass is in bad shape.
The Hump looks snowy, but nothing on the road. I would be wary of the Little Qualicum Falls and Whiskey Creek area of Hwy 4 though as it is often worse there.
CONGRATULATIONS to Jochem Juurlink! Who guessed 6:10AM today for the Snow Contest. I'm calling the contest as of 10:45AM.
The next nearest guess were Holly Murray and Ryan Sumen at 5:30PM last night and 10:20PM tonight respectively.
Jochem — please email me and we'll arrange how to get your prize from Healthy Habits!
Note: It is starting to snow in Nanaimo as well, and it is quite blustery. Careful driving.
Alberniweather Yard

Sutton Pass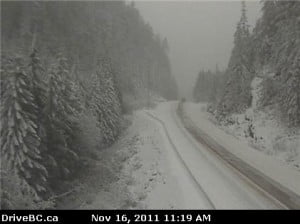 Alberniweather Webcam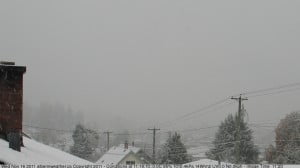 Hump Hwy4