GoPro Hero2 Webcam up in time for Summery Sunday
I'm very excited to announce that after almost a year of searching I finally have a new webcam to replace my trusty, but 6 year old and worn out, Netcam webcam.
Isn't it beautiful!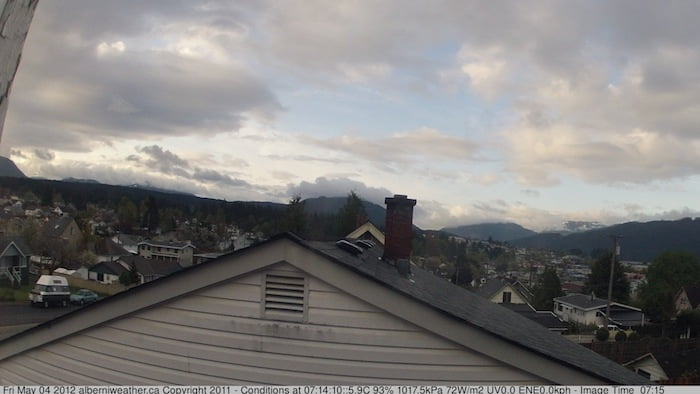 I decided to go with a Go Pro Hero2 webcam (was on sale at BestBuy.ca for $299). The Netcam was closer to $600 brand new.
If you're wondering how I hooked it up to the internet to download the pictures from it automatically. I'm using an "Eyefi 4GB Connect X2″ SD card which has wireless networking built right into it! The software is installed on my little Mac Mini server and so it handles all the downloading. It's an extremely slick little package!

The Netcam resolution is less than 1 megapixel (640×480), the GoPro is currently shooting at 5MP (~2000×1600 cropped to 1920X1040) and it can go as high as 11MP (3000×2500). The Netcam had a special wide angle lens giving it 120deg (another $100) viewing angle. The Go Pro has an incredible 170 degree field of view lens built right in without a huge amount of distortion.
All 'round, the advancement over the last 5-10 years in digital cameras is truly stunning. We now have real very wide angle HD video.
The view you are seeing right now won't be the permanent one. The lens is so wide that it captures a lot more of my neighbours house than I really would like in the picture! Plus, because the GoPro is all about portability+stability for sports photography and stuff, it comes with a really awesome little stand. So I will be mounting it in a different window of my house… perhaps this weekend if I get time in the evenings.
Now what this camera does not have is the nighttime performance that I really fell in love with with the SLR camera I used in the fall. But I've decided for now, that's going to have to wait.
—
And Finally, the weather! Well, you can see from the camera that the skies are clearing a bit. We will still have a little bit of rain and showers today and tomorrow, but once Sunday rolls around we should be on our way to some very nice temperatures and some more straight sunshine next week.
And just a reminder I know it seems a long ways off, but don't forget to enter in the Summer-Heat contest below for your free chance at winning a cool prize from Health Habits at Victoria Quay!
—
Oh and in yet other news… have you been feeling shaky lately? If you have don't worry, it's not you. It's the swarm of small earthquakes we've had off of the northwest tip of Vancouver Island. Here's a screen shot of my RSS feed just in the past 24hrs or so.
Better a swarm of little ones than one big one I say! 🙂