A couple have asked, so here's the first look, at the very edges of the forecasts… for the Christmas period.
This is the upperlevel temperature (to see if the air up high could support snow) and surface pressures for 4PM Christmas Eve Day (the furthest the models go):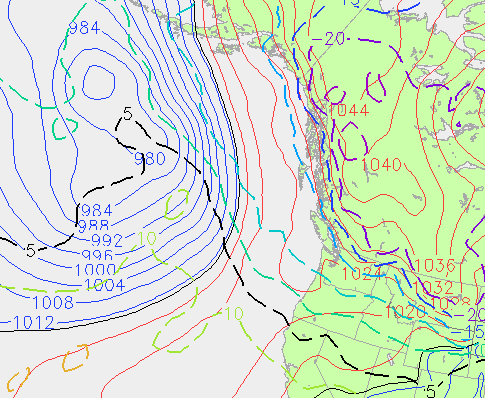 What that tells me is that around Christmas Eve we may very well be in a period of cool temperatures as there looks to be a high pressure area up in Northern BC pushing down towards us and the upper level air will be around -10 which would support snow. However, there is what looks like a big storm up in the Gulf of Alaska sending a pretty strong front our way that looks like it will hit us around Christmas Day. You can see from the black 5C line that it is warm too so at this point I would say we are in for a Green Christmas.
HOWEVER 🙂
This is, as I said way out at the edges of the forecast model and is very likely to completely change. So could it take it as, good chance the current pattern will continue or good chance the pattern will switch back to cold.
Just remember that we *do* live on the Wet Coast, so really the best chance for a white Christmas remains in the mountains. 🙂
As for the more immediate future. We have the makings of a very wet Saturday night and Sunday.
Here is the NOGAPS model for Sunday morning the 12th (Purple is 50mm in 12hrs):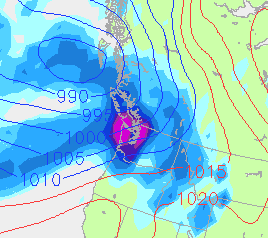 The GFS model on the other hand has the brunt of that storm hitting Washington and Oregon and saving the heavy rain for us for Monday morning. Here is Monday morning: