Finding Pan-Starrs — GOOD LUCK!
It is very difficult to see the comet Pan-starrs. It is faint. You will have to find it with binoculars first or with a telescope before you can even try to see it with the naked eye.
Or so I have read.
But we have a chance tonight since it is reasonably clear. Hopefully the wisps of fog go away… so just in case they do here is what you need to know:
Go here to find the comet, but you need information:
http://www.fourmilab.ch/cgi-bin/Yourhorizon
The position:
49°14'2″N
124°48'3″W
Paste this into the Orbital Elements field, it's for the comet:
C/2011 L4 (PANSTARRS) Orbital elements by G. V. Williams
Epoch 2013 Mar. 9.0 TT = JDT 2456360.5
T 2013 Mar. 10.16839 TT
q 0.3015433 (2000.0) P Q
z -0.0000420 Peri. 333.65160 +0.41006823 +0.10046864
+/-0.0000009 Node 65.66583 +0.90783024 +0.05059039
e 1.0000127 Incl. 84.20692 -0.08768299 +0.99365319
From 1218 observations 2011 May 21-2012 Oct. 1, mean residual 0".4.

Then hit update and you'll be able to see the position in the sky. It should look like this right now (7:25PM 2:25UTC):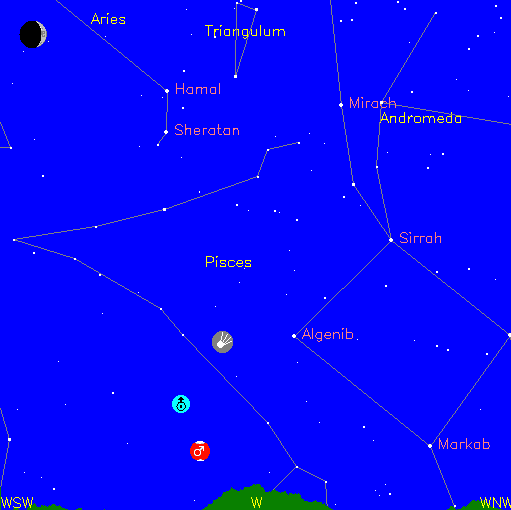 Here is a picture from my balcony. See where I'm looking? To the right of the radio towers on the hills across the harbour (Arbutus Ridge)
The red box is about where the comet should be. I drew in the orange sun below the horizon to get an idea of where it is in relation to the comet to help.
The moon is visible now too so that should help to orient you. It is down and to the right of the moon.
Good Luck!