(EC has posted the values for the 3rd for Tofino see below)

You may have already read some of this in the AVTimes today, but here it is in full.
Unofficially, the rain for the 3rd is in record territory for Environment Canada in the Alberni Valley but not an all time for the month of January or overall.
Records for January 3rd in Port Alberni:
The oldest station (1918 – 1960): 54.4mm in 1928
The previous official station on the river (1970 -1995): 68.9mm in 1994
The station at Robertson Fish Hatchery (1962-2011): 80.4mm in 1994
The current official station (1994-now): 72.4mm in 2012 (yesterday)
The most to fall in a day for the month of January is 102mm (Jan 29, 1992) at the old river station and 126.5mm (Jan 17, 1968) for Robertson Creek, so those records remain. The river and airport stations are usually referred to for records, so Environment Canada should show yesterday as a new record for Januaryd 3rd.
I recorded 61mm for January 3rd at Alberniweather.ca, other stations monitored by UVic at Alberni Elementary and Maquinna recorded 70mm and 80mm respectively. We finished with about 110mm total for the storm at Alberniweather.
The really amazing totals are coming from Tofino though. The UVic station at Wickaninnish school in Tofino has recorded 260mm of rain during the storm over the past couple days. That's 10 inches! The school received 230mm (9inches) of rain on January 3rd.
Officially, Environment Canada:
still hasn't released numbers from Tofino Airport for the 3rd and 4th. But their record since 1948 for January 3rd is 'only' 107mm so surely that record will fall. Since 1945 the record for the month of January and all time is 174.2mm in 1962. so if the Airport got anywhere near what Wickaninnish school got, then Tofino will have set a new all-time record for one-day rain.
Has now posted 180.6mm for the 3rd. This smashed the old record for January 3rd of 107mm since records began there in 1945.180.6mm is a new January, and all-time, all year daily rain record for Daily Precipitation for Tofino Airport besting 174mm set in 1962mm.
And just to put a stamp on it… Check out this picture of the Harbour from Big Wave Dave's webcam. An extremely high tide (3metres) combined with major runoff makes for a brown, and full looking Harbour.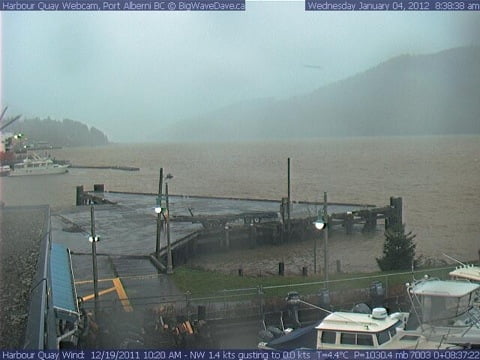 Yikes.