WE HAVE A WINNER!
It came down to a guess of 1:40PM by Tony and 1:50PM by Eric. Eric won by a hair when it ticked over to 30.0C at 1:46PM.
CONGRATULATIONS TO ERIC.
So what are we going to do now? Don't worry I have another contest up my sleeve I will reveal in a day or two.
In the meantime, the mercury is still rising! We are at 30.7C as of 2:00PM.
Tomorrow is going to be even hotter!
Update: if you are guessing this weekend, read the note below!

Note: Since there is a chance we could hit 30C on Sunday. I am going to make an Interim Deadline of Saturday 6AM for any guesses before the regular Wednesday deadline. That means you will not be able to change your guess after Saturday morning if your guess is for before Wednesday. You can still change your guess to something after Wednesday.
Remember you are guessing when the mercury will cross that line, not when the highest temperature will be reached for the day… So will we peak at 30C? Or will we blow through it? It's a very difficult thing to guess!
The latest forecast has now been upgraded to hit 30C on Sunday!
Will it actually hit it? If it does someone is going to win a prize! If that happens, don't worry, I will do another contest. 🙂
So if you'd like to take a shot at guessing if and when it will hit 30C on Sunday, go for it! Remember to guess on the 5s and 0s only (so 5 minute spans). You might just win a fabulous prize from Healthy Habits! 🙂
The Question: When will the temperature at Alberniweather.ca hit 30C?
Enter your guesses in the comments of this post only!
Entries are open until May 8th.
Kari from Healthy Habits has generously donated a prize! Thanks Kari!
Get those entries in soon! If you don't want to use the comments you can also email your guess to alberniweather@gmail.com.
The Prize?: Something fabulous from Healthy Habits! If other businesses would like to donate a prize, please contact me and we can do 2nd and 3rd prizes too! The more the merrier!
So when do you think we will hit 30C? Might it be this weekend….
It's gonna be a beautiful week. There will be a few clouds on Friday but after that a ridge of high pressure is going to build in that is going to give us an incredible period of sun and warmth! The current station at the Airport will likely set a local record on the weekend as it gets to 26C or 27C…
The hottest day so far looks like Sunday when we are forecast to reach 27C. Here is the forecast temperatures with the high pressure clearly visible. The interior will be warm too.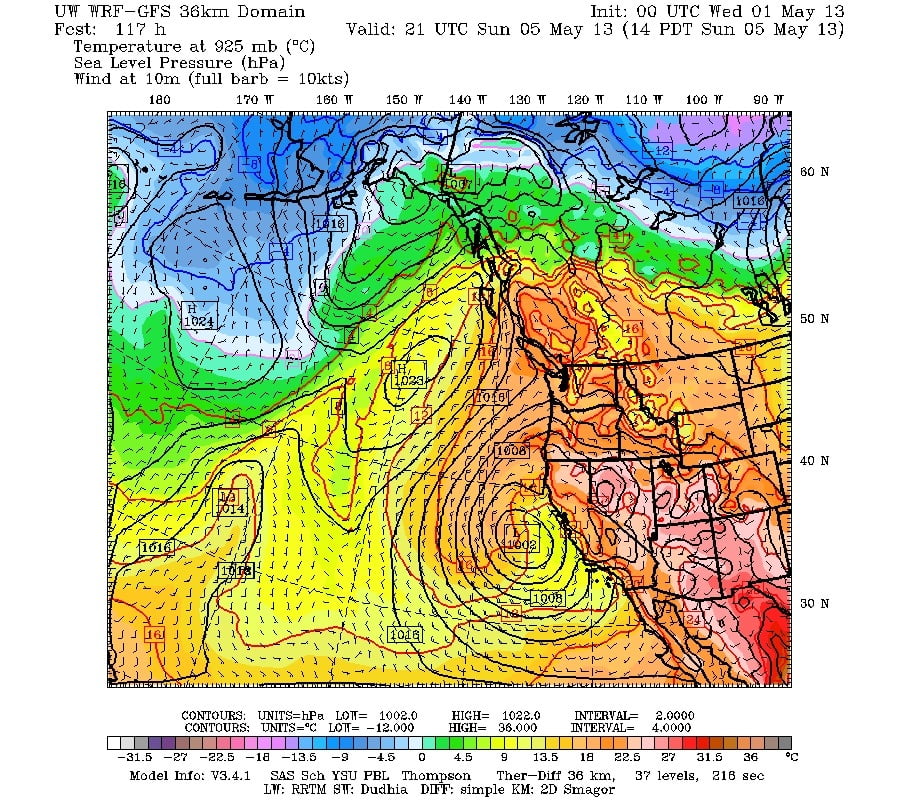 The record for May 5 in Port Alberni since 1970 (new Airport and old Airport), and thus the likely official record is 27.1C on May 5, 1992.
The all time record for May 5 going back from 1900 is 30.6C in 1915 at Beaver Creek. Note there were no other stations in Alberni at that time but Shawnigan Lake got to 26C on that day.
Good Luck!
And oh ya… Here are the rules:
#1: You must pick a date, hour, and minute (eg. July 3 12:45). Minutes should be on the fives.
#2: Closest time wins.
#3: You must enter your guess in the comments section of this post or by email at alberniweather@gmail.com
#4: You can only pick once, so choose carefully.
#5: You have 1 weeks to make your choices, choices must be entered by 6AM Wednesday, May 8, 2012.
#6: If my wife (Theresa) wins she will get a prize as will the next closest contestant. 🙂
#7: When the "High Temp" on the Daily Almanac registers 30.00C or higher, a winner will be chosen.
#8: I reserve the right to add to these rules since I probably missed something. 🙂