UDPATE: Check the update below
OK, I've made you wait long enough.
Here's the deal. Tonight. Very Cold. Friday. Cold Again (and Sunny!)
Saturday… lets look:


The GFS is telling us around 10cm will fall between Saturday and Sunday afternoon, most of it Sunday.
The Canadian Model says much the same or maybe a little more.
Our area is shaded for 10mm of precip, which is roughly 10cm of snow.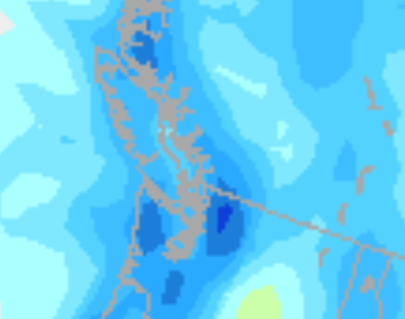 The key about this is that it will be a southerly flow. That means two things,
#1: It will try to bring warm air in… this could quash any hope for snow, but with temperatures as cold as they are now, and as cold as they are supposed to get, there is a pretty good chance that that cold will stick around for quite a while (much like it did way back in November. That seems like foreever!)
#2: As we know so well here, when it rains, it pours. That southerly flow is what gives us the constant rainfall, or in this snowfall, so this is when we have the best chance of getting the most accumulation of snow.
So for the weekend, I'd give a 40% chance that we see more than 10-15cm of snow, especially in the Beaver Creek and Sproat Lake areas.
UPDATE
Wanted to include these forecast images as well.
The first pulse, Saturday afternoon to Sunday Afternoon. Notice the little green bit around us? I'm betting that that should actually be blue… 10cm of snow.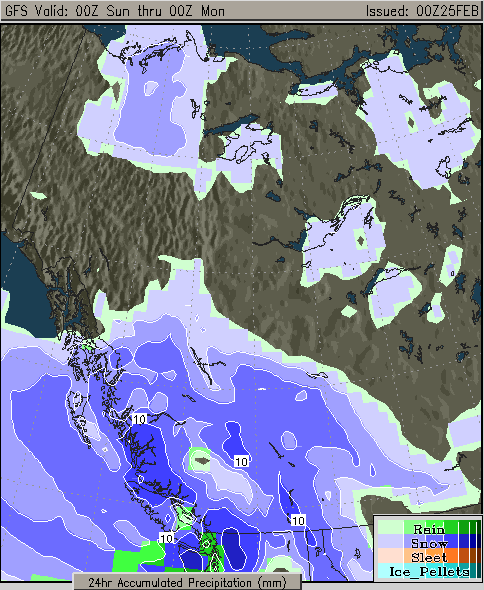 The second pulse, Sunday to Monday… notice a complete lack of green. Should all be cold enough for snow, potential for another 5cm.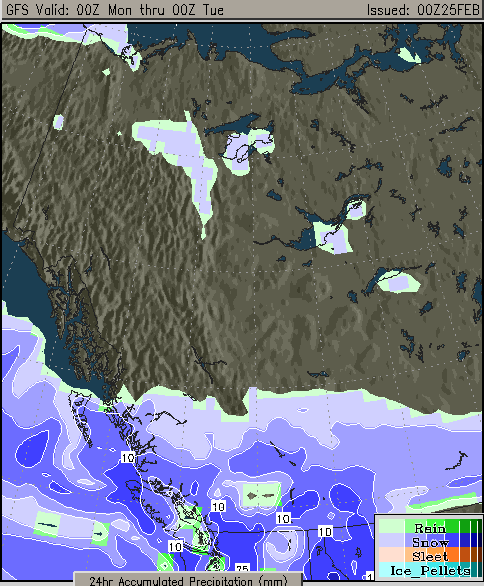 ____
Moving on.
Next week it has been consistently "interesting" ever since the models could reach that far. The main gist is continued cool weather. But that's not enough, because we're going to get wave after wave.
The green bars below start Monday afternoon and continue in waves until Thursday afternoon. Below it is the temperature, the line is freezing, so you can see we remain at or below freezing basically all week.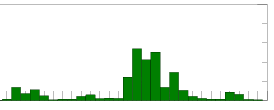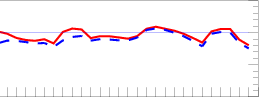 I'm thinking that this week is going to end up pretty messy. There is going to be lots of wet snow around, potential for freezing rain on Sunday and Monday, and the biggest shot of snow and likely rain on Tuesday night.
And this last image is for Eve.
Our week wouldn't be complete with the possibility of some wind!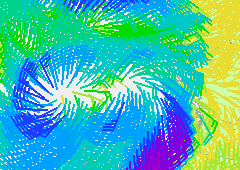 What that big mess of lines of colors is tellings us is up to 40-50knot (purple, 90kph) winds off of the West Coast (where they're all pointing the same way) which should translate into the possibility for 50-60kph winds here in the Valley.
So there ya go. It's gonna be darn cold tonight… it's gonna snow, it's gonna sleet, it's rain, and it's gonna be windy. It's gonna be fun!