It was mostly clear most of the night, but with the clear came the fog and now we are thoroughly socked in. Will the fog clear today? I give it a 40% chance of going away. Sorry, that's just the way the wind blows ( or doesn't ) :). Inversion is here.
The good news is if you are feeling the weight of all that moisture, you can poke your head out pretty easily by going up to the Timberlodge or Visitor Center. It was clear up there, at least when I went by this morning around 6AM.
This pattern is going to last through to Sunday at least. We should get a bit of precipitation Sunday day and evening. It may be of mixed form. Thankfully Monday is a holiday but if you are driving the Hump or to the West Coast Monday morning it might not be fun.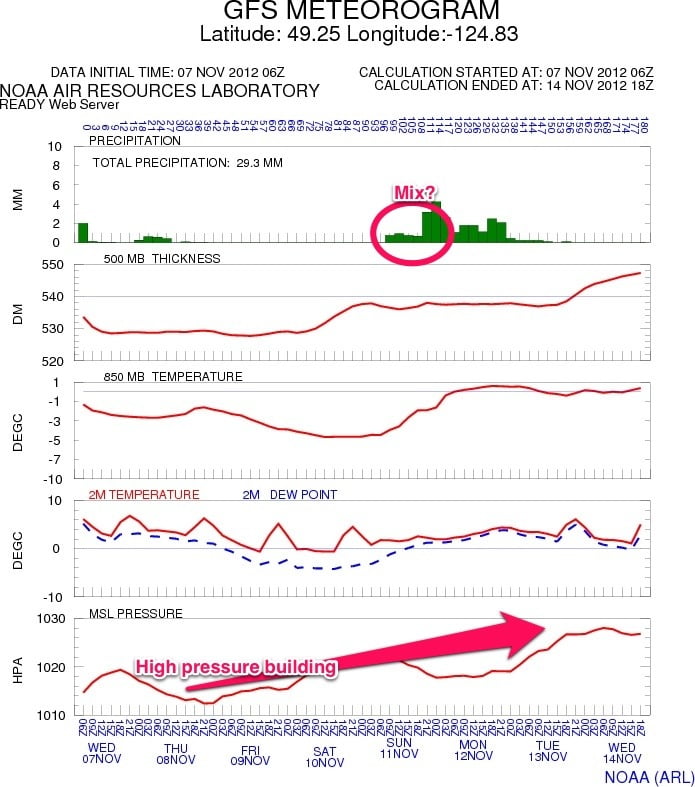 Friday and Saturday should be our coldest mornings but like today, we might have fog form before we reach the forecast lows so that might keep us from reaching lower than 0C. You can see in the graph where the dew point and temperature are almost the same, that means either fog or precipitation. On Friday and Saturday the two sedate so that does give more possibility that we will stay clear and reach the predicted lows.
What is more interesting is the long range forecast which has almost dried up completely. It's predicting a ridge of high pressure will pretty much take hold. If this forecast holds it could mean a couple weeks of foggy weather. That doesn't sound like much fun, so maybe let's hope that doesn't happen. 🙂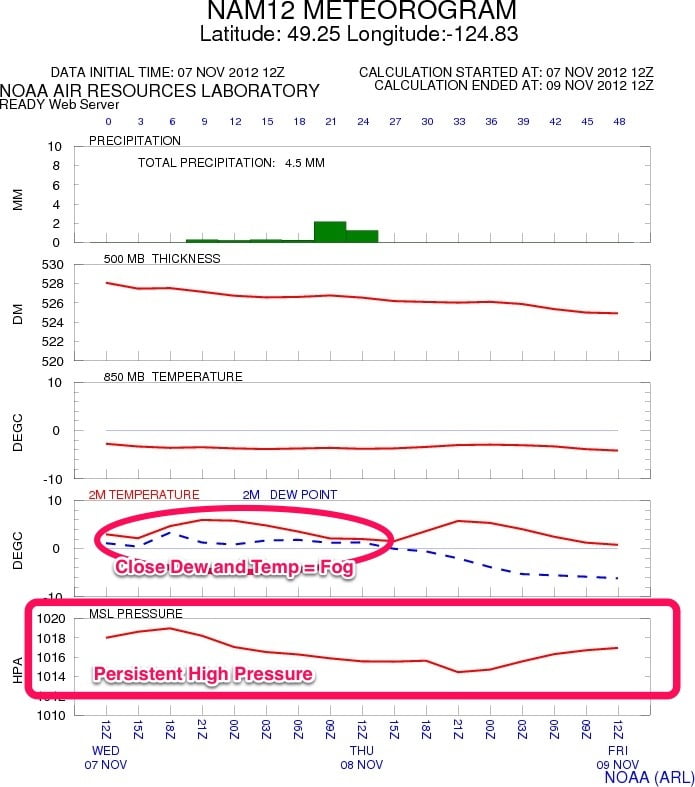 On another topic: I need your feedback
After 6 years of being battered on my roof, my weather station is starting to show its age. Most notably, the rain sensor, temperature sensor and wind sensor all have intermittent, but persistent problems recording data.
I can't afford to buy a brand new station ($600). However, Ive found out after talking to Davis that I can send my station back and have its sensors replaced and recalibrated and upgraded to a wireless system for $200.
The catch: it would likely mean a downtime of at least 10 days.
Should I do it ASAP? Or wait? Do it over Christmas? Or even wait until spring? I'm inclined to just get it over with… And with this forecast of not-much-happening in the next few weeks, it might be a good time. But I would appreciate your feedback here in the comments. I hate the idea of having no data for you guys (the website would remain up with forecasts and webcams and such). But better none for a little time than incomplete data for a long time?
Your feedback is appreciated.
Have a great day. Hope the sun breaks out. If not no worries, it will likely clear overnight so stargazers might have a beautiful view.
And don't forget to enter the Snow contest! If you have any problems commenting, please let me know by sending an email to [email protected]. I've heard there are some problems with some versions of Internet Explorer, my strong recommendation would be to download and use Firefox or Google Chrome for your web browsing instead.