UPDATED: See updated images, the old ones I've moved to the bottom so you can compare… actually looks a little colder, more snowy. A little.
The models all agree. The forecasters all agree. We're going to get snow. And a bunch of it.
Environment Canada is predicting 10-20cm through Tuesday night.
Accuweather.com is predicting a similar amount, up to 40cm through Tuesday and Wednesday.
About half that is supposed to fall on the East Coast.
Here's a bit of graphical analysis using our trusty GFS:
Here's the precip: The big question is when is the switch to Freezing Rain and finally Rain. I'm putting my bets now on Thursday morning.

Here's the "upper level" forecast temperatures. This tells us whether stuff falls as rain or snow.

And finally here's the ground level temperatures… somewhat less reliable I find.

And for a grand finale for this post here's the deal for Friday afternoon.
Lots of rain…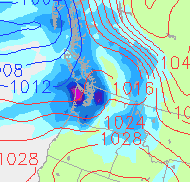 With the snow, make sure your drains are clear, we could have major flooding problems on Thursday and/or Friday.
But that's nothing compared to what's on "tap" for next week.
Old Images (archive only, use ones above for current forecast):