Beware Blowing Snow (Updated)
UPDATE 3: Snowfall warning for East Vancouver Island issued 5 to 10 cm of snow is expected tonight.

Update 2 Just took a peak at the forecast into next week and wow… Canada looks cold from Coast to Coast to Coast.
This is Tuesday: (blue is below 0C, purple -10, grey -20)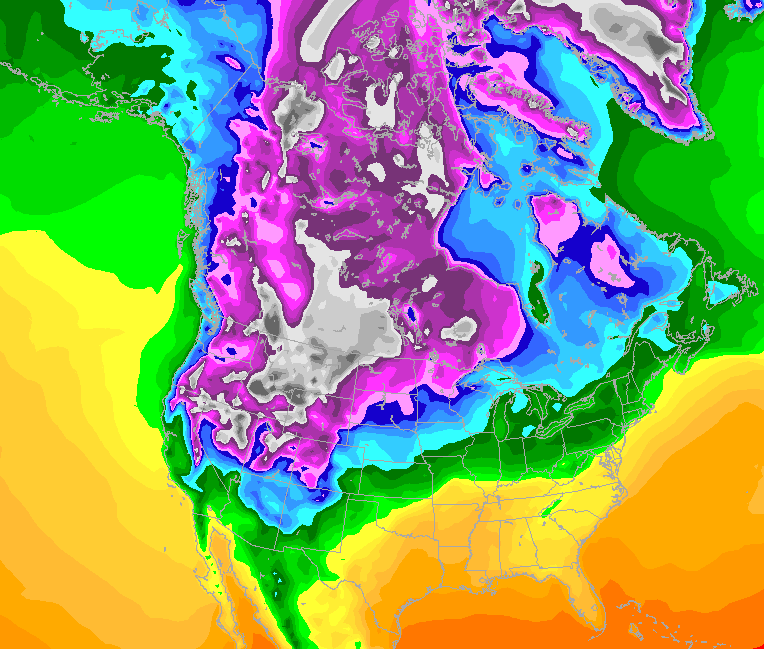 Just saw on the DriveBC Website that they are reporting (@4:58AM) blowing snow on eastern parts of Highway 4 (towards Coombs/Qualicum).
Please make sure you drive with care this morning. If you're going over to the East Coast today, there is a good chance you will see a lot of snow in the air, and perhaps some on the ground, especially the further North you go.
You can see on the temperature map on Island Weather.ca this morning that we're down near 1C north of Nanaimo (the blue area).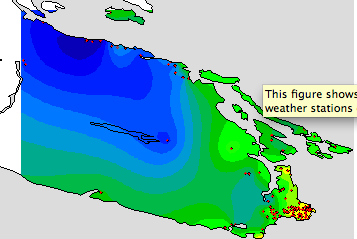 UPDATE: As of 6AM to 8AM this morning there was no snow falling on my journey from Port Alberni to Nanaimo. Light rain in Nanaimo
The major Arctic air isn't supposed to start blowing in until something this afternoon and evening so that might mean it will stay bare and wet for most of the day. But come tonight and tomorrow. Expect snow wherever you go, and more on the East side than here.
The forecast is calling for 5cm of snow for us in Port Alberni. If that comes true, we will certainly have a winner. I'd say RevJim has the best shot right now! The Official Alberniweather Snow Ruler is ready and waiting at my frontdoor! My lovely wife will be in charge through the day today and she'll let me know if and when there is a winner so that I can announce it but I think it will happen tomorrow.
Good Luck! Have fun and stay safe out in the snow.