80knot (150kph) 949mb Hurricane nears Aleutians
In the admittedly short time of this blog, don't know if I've seen a forecast for winds this strong on the weather charts. Below is the current 48hr outlook (There is a larger version available through the Forecast Menu, Weather Charts, North Pacific). That flag right below the "L" is 50+10+10+10… 80knots.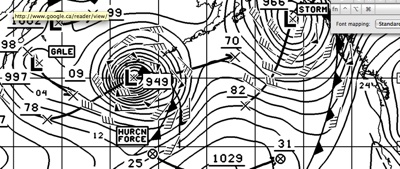 Its forecast is to weaken considerably by the time it reaches the Gulf of Alaska by Thursday (to 970mb), and the associated frontal system is currently producing more modest 40knot winds.
That said, the winter storm season has definitely arrived! Imagine being a crabber in the Beaufort Sea or crew on a freighter to Japan! CRAZY!
UPDATE: The updated forecast cuts the worst winds up there to 70knots and the front won't reach in any big kind of way as our nice little ridge of High Pressure continues to protect us.
UPDATE: The new 24hr forecasts the above low to peak at 85knots… about 160kph (and that's sustained, gusts would be greater than that). In the tropics that cross into a Category 2 on the Saffir-Simpson scale. Weeee!