We finally have a winner for the 2012 Alberniweather Summer Heat Contest.
Today at 15:26 (3:26PM) we finally crossed the 30C threshold and the station hit 30.17C and … ummm… "H992172" became our winner. Now if that person doesn't turn out to be real (they have a real email address and made a coherent entry so I have to assume they are real!) then the winner will be the next closest person which is Crystal who guessed last Saturday.
So, H992172, whoever you are… you have 24 hours, until 4PM Tuesday July 17 to contact me!
You should already have an email from me in your inbox.
Once all is good and confirmed you'll be able to pick up your prize at Healthy Habits at Victoria Quay! If not, Crystal, stay tuned.
Congratulations!
Thank you everyone for playing this year! It was a strange one (we have now ducked below 30C again..)!
Chris
____________________________________
THE ENTRY PERIOD HAS BEEN EXTENDED UNTIL FRIDAY, MAY 18th at 9AM!
I promised a contest starting May 1 and here it is! When will we have our first 30C day in 2012?
Enter your guesses in the comments! (Most folks are guessing July right now… what do YOU think?) Guessing is open until May 15th.
Get those entries in soon!
The sun is back, barely, the backyard is warming up, a little. It's time for a contest!
The Question: When will the temperature at Alberniweather.ca hit 30C?
The Prize?: Healthy Habits on Victoria Quay is offering up a Summer Snack Pack – a bag of mixed, healthy goodies!!
So when do you think we will hit 30C? Note I didn't have a contest last year because it was just so cold… In fact, we only had spans of 30C temperatures twice last summer. And the first time was a brief spike on August 19th. We finally got a longer 4 day stretch from Sept 8 through the 11th but after that it was like we hit a wall and the thermostat got turned back down.
Check out the graph of last years "bummer summer" from May 1 to October 1: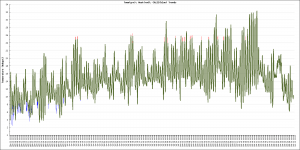 So is that going to happen again? Well….. who knows? The waters off our shores are still cold but might be showing a warming trend. La Nina has ended, but El Nino isn't picking up steam yet. And there is heat out there… remember the "Summer in March" that happened in the NorthEast US and Eastern Canada? (Quickly followed by a snow storm!) Now they're having a record breaking heat wave in Europe.
There is lots to consider. What do you think? Add your thoughts in the comments, we might be chatting about this for a while!
I will have the contest open for 2 weeks until 6AM on May 15th.
Good Luck!
And oh ya… Here are the rules:
#1: You must pick a date, hour, and minute (eg. July 3 12:45). Minutes should be on the fives.
#2: Closest time wins.
#3: You must enter your guess in the comments section of this post.
#4: You can only pick once, so choose carefully.
#5: You have 2 weeks to make your choices, choices must be entered by 6AM Tuesday, May 15, 2012.— EXTENDED to 9AM MAY 18, 2012
#6: If my wife (Theresa) wins she will get a prize as will the next closest contestant.
#7: When the "High Temp" on the Daily Almanac registers 30.00C or higher, a winner will be chosen.
#8: I reserve the right to add to these rules since I probably missed something. 🙂
……….
And remember this? The Heatwave in 2007 where we hit 40C for multiple days?
And in 2006 we had over two dozen days over 30C, and I recorded my hottest temperature (40.96C)!