I got a question from a friend that I thought would be a good blog post…. thanks Anna!
Question: The weather is getting a bit depressing… is there any sense that the rain will, eventually, let up a bit? Is this normal? I know it *seems* like a really (REALLY) cool, wet spring . . . but then, *every* spring seems like a really cool wet spring. At some point maybe it's important to suck it up and just admit that we have cool wet springs!

I think she's right… cool wet springs are pretty much the norm for this part of the world. March and April especially so.
But I'm a numbers guy… so lets look at the numbers.
The average from Environment Canada for March in Port Alberni is 5.9C(1970-2000)
The Mean Temperatures for March since my records began in 2006:
2006: 5.0C
2007: 6.2C
2008: 4.3C
2009: 3.6C
2010: 5.6C
2011: 4.6C
2012: 3.8C (with a couple days left, I'll update it if the mean changes by the 1st)
So you're right, it's been cool.
We've had 239.5mm of precip (rain/snow) so far this month (might get a little more before the 1st). Normal for Port Alberni is 203mm so we've had more than normal but nothing too extreme.
I would expect the colder-than-normal temps to stick around. Personally unless we get some gigantic high pressure hot spells in the summer building up from the South or East then it's going to be the cooler-than-normal (negative phase Pacific Decadal Oscillation) waters of the North East Pacific (NOAA SST Maps – Pick "Full Global" for our region) that are going to really influence our local temperatures.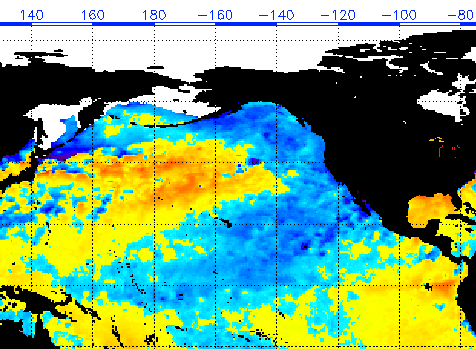 Cold Water around our part of the world, great for the fish, not so much for our weather!
Notice also the hint of red waters off South America… that is the death of the most recent La Nina. Model Consensus is for Neutral conditions or a weak El Nino. Either one won't likely cause a big change in our weather up here.